Right-wing local politician Paolo Ciani mocked up the image showing the Manchester City striker in his Italian shirt and bending over to pluck cabbages.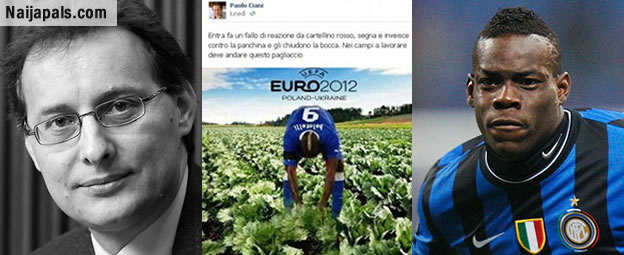 In Italy, many immigrants from Africa or South America graft as vegetable harvesters amid numerous complaints over their working conditions — including the searing heat.
Ciani, from the Future and Liberty party, captioned the picture in reference to claims the 21-year-old elbowed Irish player Richard Dunne before launching a foul-mouthed rant at Italy's management team.
The 51-year-old wrote: "He commits a foul worthy of a red card, scores then unleashes a verbal onslaught against the bench forcing them to shut him up. This clown should go and work in the fields."
Ciani has since been accused of blatant racism.
His comment came after the UEFA launched an investigation against Croatian fans for throwing bananas at Balotelli and aiming monkey chants at him.
Before the tournament, Balotelli — who was born in Italy to Ghanaian immigrant parents — had vowed to walk off if he suffered race abuse in the finals, Ciani, from nationalist Trieste, hit back at claims he was being racist.
He posted a picture of himself at a council meeting with a black resident, adding: "How can they accuse me of racism. I work with non-European Union nationals. This is the best response to this presumed racism."
He added: "What I was doing was making a footballing comment, I was highlighting how Balotelli had committed a bad foul which could have got him sent off — then his reaction after scoring was so over the top one of his team mates had to put his hand over his mouth.
"I am friends with (Ghanaian) footballer Kwadwo Asamoah who is blacker than Balotelli but he has never been whistled and jeered at because before being a footballer he is a man. As I said all I was doing was making a footballing comment.
"I believe that Balotelli with his extravagance and vision on life is a poor example for the younger generation. I said he had to go to work because that is a common phrase. Once we used to say focus on fishing but now we say go to work."
Today Balotelli's agent Mino Raiola was unavailable for comment.