According to a top security operative, police detectives are studying audio and video tapes of the sermons in which Kaduna-based Islamic cleric, Sheik Ahmad Gumi, asserted that the late governor of Kaduna State, Mr. Patrick Ibrahim Yakowa perished along with former National Security Adviser, General Andrew Azazi while strategizing against Northern Nigerian Muslims.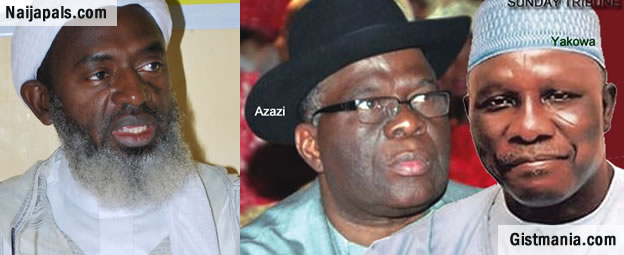 Gumi allegedly affirmed that Yakowa had been engaging in an anti-Muslim agenda, and that it was therefore necessary to avoid the emergence of non-Muslims as governor of Kaduna State in the future, a point that some senior citizens of Kaduna State raised in a detailed memo in which they expressed concern that Gumi's weekly sermon was likely to cause serious ethno-religious crisis in Kaduna town.

According to the source, the eminent personalities from Kaduna are of the view in view of the volatile nature of Kaduna State, urgent intervention and consultation has become necessary.

"The prominent people from Kaduna State wrote the memo, and included it with audio and video tapes of Gumi's preaching," the source continued. "Gumi in one of the tapes indeed said that Yakowa and Azazi died while meeting on anti-Muslim issues. He was also heard in the tape saying that it was a plan with General Gowon using the burial in Bayelsa as a cover up for them to meet and that is why Yakowa followed Azazi alone without his ADC.

"Gumi in the audio tape also said that the Muslims of Kaduna State should never allow a situation that will bring about a non-Muslim to be governor, alluding to the fact that it was Allah that did this crash for the impending danger being planned against Muslims."

He said the Kaduna personalities who wrote the petition want action to be taken against any clerics, Muslim or Christian, who preach incitement and hate.
Posted: at 17-01-2013 07:59 PM (10 years ago) | Upcoming