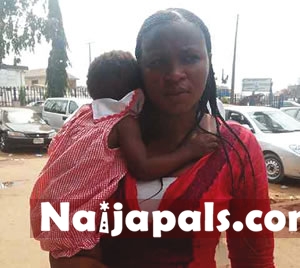 There was a mild drama at the Ojodu Police Division, Lagos State on Saturday over the arrest of a woman, Mrs. Joy Idenyi, by two policemen from the Bauchi State Police Command.

Idenyi's arrest was prompted by a warrant from a Bauchi Magistrate's Court B for the alleged abduction of her niece, Patience Joseph. Patience's father, Joseph, had reportedly made an application to that effect.

While waiting for the policemen to complete the paper work at Ojodu, Joy told PUNCH Metro that she received a call around 10am on Saturday from her neighbours that her husband, Shuaibu, had been arrested.

She said, "When I got the call that my husband had been taken to the Ojodu Police Station. I rushed down there to discover that Patience's father was there. The policemen had come with a warrant for my arrest – for allegedly abducting Patience."

Denying the claim, Joy said Patience had fled to Lagos sometime last year.

She said, "Patience came to me because she did not want to marry the man that her parents had arranged for her and I tried to help as best as I could."

Programme Officer for Project Alert on Violence Against Women, a non-governmental organisation, Tobi Ashekun, told PUNCH Metro that the body was aware of the matter.

She said, "We have been on this case for almost a year. The first time we met Patience was in March 2013. After fleeing her home in Bauchi, her aunt, Joy, brought her to our office. She told us that she had not turned 18 and that she was being forced to marry someone her father had picked out for her.

"The matter was reported at the Ojodu Police Division, but while Patience was still with Joy, her mother travelled down from Bauchi and took Patience away."

PUNCH Metro gathered that Patience eventually married the man picked for her. However, a few days after the marriage, Patience again fled her matrimonial home to Lagos.

Ashekun said, "We invited Patience's parents and her husband for a meeting in Lagos. Patience told them she had no interest in the marriage. She said she wanted to further her education instead.

"Her parents wanted her to go back with them, but she refused. So we told the parents that until they could sign an undertaking with Lagos State Child Welfare, promising not to force her to marry the man, Patience would not be released to them. Presently Patience is at a safe location; she has not been abducted."

Project Alert's Lawyer, Mr. Benjamin Okweu, condemned the arrest, saying the facts must have been misrepresented before the court.

He said, "The father who made this application had sworn an affidavit that Patience was 18 years old at the time she was married. Now for that same man to turn around and say the same girl has been abducted by her aunt is mischievous.

"If indeed Patience is an adult, then she has the right to leave home. Patience has told us that she was 17 at the time she was married. We intend to file an application before the Federal High Court Lagos for the dissolution of that marriage."

A copy of the warrant made available to PUNCH Metro read that Joy was charged with abduction contrary to sections 272 and 273 of the penal code.

Joy, accompanied by two policemen, eventually left the Ojodu Police Station around 4pm for Bauchi. She left in company with her one-year-old baby.