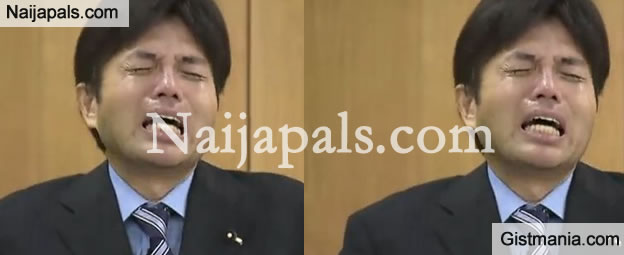 Japanese politician Ryutaro Nonomura breaking down in hysterical tears during a press conference has gone viral! The 47 year old had a meltdown of epic proportions, wailing and hitting the table when questioned by reporters about using $30,000 of public funds for his personal travel expenses.
Ordinary travel expenses o! Nigerian government officials will buy private jets with public funds and walk around with their heads up high like kings! #NoShameInTheirStealing
While many find the politician's dramatic meltdown funny, let's take some time to look at the bigger picture, this man is so embarrassed about stealing $30, 000 of public funds, he is probably going to be forced to resign and live with the shame for the rest of his life but Nigerian politicians are not only celebrated for stealing much more than $30, 000 they openly flaunt "their stolen wealth" which is actually public funds, while the average Nigerian continues to suffer no electricity, bad roads, poor healthcare system, crime, Boko Haram terrorists and much more.


---
Posted: at 4-07-2014 04:51 PM (7 years ago) | Hero