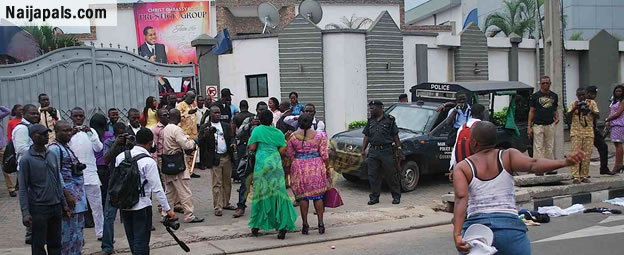 Angry mob beat up mad woman in Ibafo area of Ogun State, after they discovered a dead baby in her possession.
The mentally derailed woman identified as Tope, while playing with the dead baby at a refuse dump was seen by a resident of the area who called the attention of neighbours to the scene.
While being confronted by the angry mob, the mad woman dropped the dead baby and took to her heels while the mob they pursued her and beat her up.
The Police Officers at the Ibafo Police Station came to the rescue of the mad woman who is said to be in her 40s.
Some of the residents of the area said the mentally drenched woman was only pretending while others said she is actually mad.
A resident affirmed, "I came to Ibafo five years ago and I have known her since then. According to what I heard, she has been like that for years. We were all surprised when we saw the baby with her. Probably, somebody dumped the child somewhere, and she picked it.
She said, "Although I was not part of the people that beat her up, the rampant case of using human parts for money ritual prompted them to do so."
One Mrs Rose Mary, a trader in the area said, the dead child may have been a victim of ritual killers who after using the baby for ritual purpose dumped the remains in the refuse dump.
"Some wicked parents can decide to throw away their baby just because of poverty or if they are not ready for parenting. It can also be that the baby was used for rituals and dumped."
An Okada rider known as Rasaq Bashir, said the mentally challenged woman was only pretending to be mad as she uses it to cover up to carry out her evil act. Bashir noted that she has not been seen in the area since the incident happened, adding that youths in the area burnt down all her items.
Bashir noted that, "I don't think she is mentally ill. She ran towards police station for safety. That is why I am suspicious of her. Since that morning till now (Saturday evening), we have not seen her, whereas she used to come here every day."
The Ogun State Police Public Relations Officer, Muyiwa Adejobi, while confirming the incident said, Tope was attacked while Bosom -feeding the dead baby.
Published at:
03:38 PM, 2/03/2015 (3 years ago)
Author:

CLARA JANCITA
Problem with this article? Please email reporter[at]naijapals[dot]com or visit our contact page
---