Quote
THIS IS ABOUT A LADY WHO RECENTLY GET MARRIED, TO SOMEONE WHO DIED A YEAR AGO.
LOVE, PASSION,REAL LOVE? WAS TOUCHED WHEN I CAME ACCROS IT.

Magali Jonathan wife, who died a year ago.

This posthumous marriage was possible thanks to steps taken by the couple before the death of Jonathan, a year ago. The final decision was vested in the President.

He was his whole life. Saturday, November 14, Magali has taken for her husband Jonathan, who died a year ago in an accident, said Mayor Dommary-Baroncourt (Meuse), which conducted the marriage posthumously.
Magali Jaskiewicz lost in November 2008 Jonathan Goerge his companion, with whom she lived for five years and she has two daughters, aged 3 years and 18 months.

"The record was stocky Magali"
On 25 November, "said Mayor Christopher Caput AFP, they came to city hall with their file and been asked to be married January 24, 2009. But November 27, Jonathan, aged 25, was killed in a road accident.
Magali then learned the possibility to marry posthumously under certain conditions. It was established with support from the mayor and the support of politicians Lorraine a file he sent to Paris. The final decision lies with the president arrived in September.
"The record Magali was stocky, with five years together, their two children, photos of the wedding dress she had bought and formalities for marriage," said the mayor.



Magali "apparent widow of the town hall"
Saturday afternoon in the village of 850 inhabitants, the mayor wearing his scarf questioned ritual Magali who was wearing the wedding dress bought a year ago. Beside his wife, a large portrait of Jonathan was placed on an easel.
"I'm not really in the mood to party, we'll drink a cup of coffee and I thank those who supported me, I've also heard nothing negative in all these months," she said before visiting the grave of her late husband.
Magali, who "appears widow of the town hall," said Mayor deeply moved, now bears the name of George as was the case with his two daughters.

She wears his wedding ring and decided to hang her husband's (wedding ring) to her collar.
Marriage posthumously is a rare procedure, as the mayor of Dommary-Baroncourt who has identified "three in fifty years" in his department. There would, however, a few dozen cases each year in France. Governed by Article 171 of the Civil Code, it is possible that if the deceased had previously taken official steps to marry.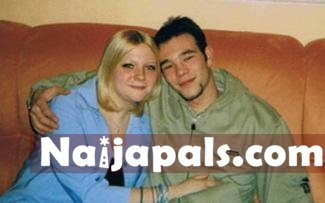 Posted: at 23-11-2009 05:35 PM (13 years ago) | Gistmaniac