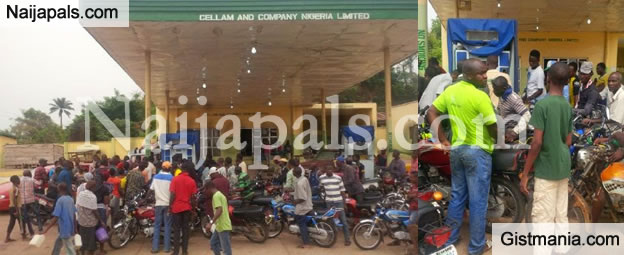 A severe fuel scarcity has hit major cities in Nigeria, with Lagos and Abuja being the worst affected.
Most petrol stations in Lagos have closed shop due to unavailability of the product but this has not stopped car owners from parking their vehicles on queues in hopes of purchasing the product.
A driver in Lagos told Pulse that he was forced to purchase 10 litres of fuel from the black market at N4,000 after waiting endlessly at petrol stations.
"There is no fuel in Lagos. All the stations are closed," the obviously frustrated driver said.
"Even the 10 litres I got won't be enough for the work I have to do so I'll need to buy more," he added.
Car owners in Abuja are also facing the same fate as some of them are forced to purchase fuel from the black market at a minimum of N200 per litre.
The scarcity comes barely a day after the end of the deadline given to the Federal Government by the Major Marketers Association of Nigeria (MOMAN) to pay the N256.2 billion debt owed them.
MOMAN had threatened to stop importing fuel if the debt was not paid.
Meanwhile, the Nigerian National Petroleum Corporation (NNPC) has blamed the scarcity on the strike action embarked upon by the members of National Association of Road Transport Owners (NARTO) and the Petroleum Tanker Drivers (PTD) due to debts owed them by the marketers.
Published at:
12:45 PM, 29/04/2015 (3 years ago)
Author:

kaygee
Problem with this article? Please email reporter[at]naijapals[dot]com or visit our contact page
---