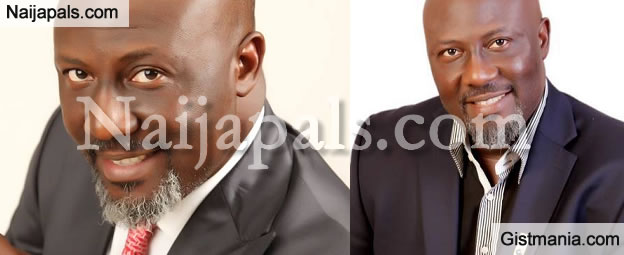 Senator Dino Melaye, Sunday, accused The National Leader of the All Progressives Congress, APC, Asiwaju Bola Ahmed Tinubu, of offering support for Senator Smart Adeyemi, who is currently challenging his electoral victory at the Court of Appeal. Melaye, an APC senator, who represents Kogi West Senatorial District at the upper chamber of the National Assembly, told journalists in Abuja that Tinubu had contacted the immediate-past Attorney-General of the Federation and Minister of Justice, Mr. Mohammed Bello Adoke (SAN), to take over the legal battle on behalf of Adeyemi. He also said that Adeyemi, on the request of Tinubu, had forwarded details of the suit to Adoke, asking him to look for a judge in the Court of Appeal that would offer assistance. Tinubu however denied the allegation, asking the Senator to look elsewhere for people to blackmail. Speaking through his Media Adviser, Mr. Sunday Dare, Tinubu, said it was nothing but a "kitchen of malicious lies." Dare said: "This is another lie from their kitchen of malicious lies. They are all over the social and traditional media, spewing lies and planting stories. We are not about that. Nigerians are not as gullible as they think. "He is aligned with people who want to kill the party, and we wish him luck, but they will not succeed because the party belongs to the Nigerian people. "This blackmail, like other ones, will not work. It cannot stick. Adoke? Who is he? Tinubu cannot recall when last he saw him or even spoke with him. Dino should look elsewhere for people to blackmail."
According to Melaye, he incurred the wrath of Tinubu after refusing to back down from supporting the Senate President, Bukola Saraki, during the recently concluded election of presiding officers of the 8th Senate, insisting that he had no regret over his role leading to the emergence of Saraki as the Senate President.
He said: "I have no regret supporting Senator Saraki and my electoral victory was ordained by God and not by man. Therefore, no mortal can reverse it. In God, I trust, no matter how desperate they might be. "I am privy to an electronic mail sent to Adoke by an Abuja-based senior editor who is close to Tinubu in which he forwarded the court papers filed by Smart Adeyemi at the tribunal to Adoke. "In the said e-mail, Adoke was told to look for a trusted justice in the Court of Appeal who would be useful for Smart Adeyemi."
Smart Adeyemi's petition was dismissed by the tribunal because his lawyers filed their defence too late. In his judgment, Chairman of the three-member tribunal, Justice Akon Ikpeme, said the petition by the candidate of the Peoples Democratic Party, PDP, was incurably defective.
---