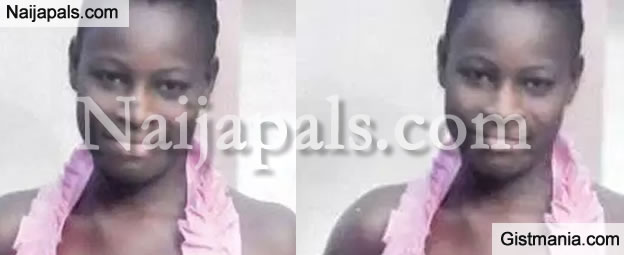 This 14 year old girl named Chiawolam Comfort Umeh (pictured above) committed suicide on July 7th after she was gruesomely gang-molested by 3 men on June 28th at Iyienyi Village, near Okwoyi Community, in Isieke, Ibeku, in Umuahia North LGA of Abia State.
Chiawolam was a virgin before she was defiled by the vile men. Read the full report after the cut.

Chiawolam, who was among students who sat for the Junior Secondary School education (JSS) examination recently from Isieke Model Community High School, was reported to have dashed into the bush at the back of the family house with her mother's head tie, climbed on top of a guava tree and hung herself two days after she was molested by the three beastly boys. The rape incident happened on Sunday, June 28, 2015, while she hung herself on Tuesday morning, July 7, 2015.
Chiawolam's father, Mr Umeh said that early in the morning that Tuesday, her mother called her to find out how she was molested and she complained that she was having pains all over her body. The mother told her to endure till they come back from the police station that morning, but unknown to them, the deceased had another plan.
"She took her jacket and what we later discovered was a scarf and left, warning that nobody should mention her name. We thought she was going to the toilet," the distraught father said.

The members of Umeh family, who are natives of Amaeke Abam in Ohafia LGA, have been residing in Inyienyi village, where they acquired land and built a house.
A family source disclosed that Comfort had told her mother earlier that she would not be able to stay alive to behold the faces of those who defiled her, but the mother did not understand what she meant.
It was her deafening cry while struggling between life and death on top of the tree that drew people's attention to the bush. They then rushed to the scene to discover that her tongue had already protruded out of her mouth showing that she had given up the ghost.
Comfort's mother, Mrs Ekenna Umeh, a prophetess who runs a prayer ministry in her home said that the deceased would have clocked 15 years in October this year.
She said that her daughter did not like having any affair with boys as she swore that she would keep her virginity for her husband. She was said to have told her mother that she would complete her studies and start working before considering marrying. The deceased mother alleged that one Ndubuisi had been disturbing her daughter since they moved to the area in 2013, and had in her presence threatened to deal with her if she refused his amorous overtures.
Her words: "In my presence, I had asked my daughter and she told me that relationship is not her prob¬lem now until she is through with her education.
She hardly collects gifts from boys nor accepts free rides when coming back from school."
Chiawolam was said to have gone to see her sister in a nearby village. On her way from the visit, the three boys allegedly abducted and took her into a nearby forest, where they have a cult house and shrine.
Explaining further, the mother told Us "While this was going on, my daughter told me that she was still shouting, but nobody could come to her rescue. She said that immediately they got into the forest, near Inyienyi stream, one of the boys named Ndubuisi brought out a dagger and threatened to kill her if she refused to submit herself to them. Eventually, they over-pow¬ered her, tore off her skirt, blouse, pants, brassier and forcefully molested her in turns. She said that when they were doing all those things to her, she passed out, only to wake and see herself in the pool of her own blood.
It became difficult for her to stand up and walk out of the forest, as her head was turning and every area of her abdomen and private region was paining her. She said that she looked at herself to discover that blood filled the whole place like where a goat was slaughtered for sacrifice."

Mrs, Umeh said she never imagined that her daughter would take her life. She called on the police and all relevant authorities to give her justice and ensure that her daughter did not die in vain by making those who pushed her to suicide pay for their sins.
The Police Public Relations Officer for Abia State, Mr Ezekiel Udeviotu, who confirmed the incident described it as unfortunate, stating that the police was doing all within its powers to arrest the culprits, who were said to have fled the community.
---
Posted: at 13-07-2015 10:45 AM (6 years ago) | Hero