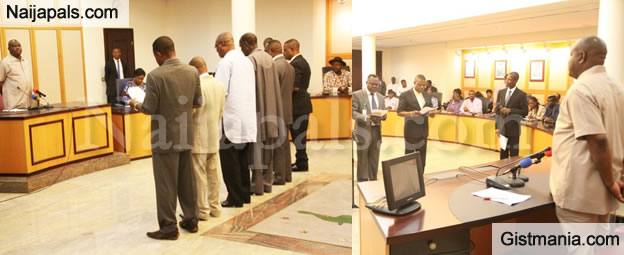 Rivers State Governor, Nyesom Ezenwo Wike has directed the immediate redeployment of all permanent secretaries in the state to ensure that they face new challenges.

The governor also warned all permanent secretaries to avoid partisan politics but remain committed to their duties as technical heads of their respective ministries and agencies.

He spoke at the Government House, Port Harcourt on Friday while swearing-in new permanent secretaries.

He said: "Your are appointed to make your contributions to the new Rivers State. You are not appointed to to be partisan.

"I don't want what happened in the past to reoccur. If you read the report of the Judicial Commission of Inquiry, permanent secretaries abdicated their responsibilities to do things not expected of them. "

He said said the permanent secretaries should not use the excuse of 'I was directed', to do things that were illegal.

Governor Wike said the appointments were based on merit, pointing out that none of the new permanent secretaries lobbied for the appointments.

The newly sworn in permanent secretaries are: Dr Onyenachi Nwankwo, Ernest Chapp-Jumbo, Samuel Ibemeru, Michael Ejiowhor, Lekia Bukpor and Dumo Jack.