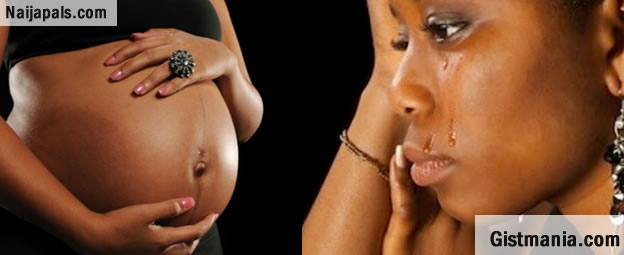 Talk about having a career so good at just 24. Tall, slim and dark skinned lady (names withheld) has held Ibadan bound severally with her earth-shaking poses which has always adorned so many bill boards at highbrow areas in Ibadan, Oyo State. She has always been a hot cake for agencies as brand fight to use her for adverts. Bold and outspoken, yet young, the lady in question who is still in school, has sadly have her fingers burnt.

She started a relationship with a young man who is in his early 30's few months ago, and along the line they started having sex. She got pregnant and was ready to keep it because she was in LOVE. Long story short, the guy started avoiding her, and the house (a flat) she usually spends her weekends which sometimes stretches to week days all of a sudden became forbidden for her. The guy in question started telling his friends, he can't marry her, because he is not in love with her and she is too temperamental. Continue...

Anyway, the guy has refused to accept the pregnancy and told her a DNA will be carried out on the baby once she puts to bed to be sure he is the real father of the child. Not taking a NO for an answer, she has been frequently his flat and creating scenes with neighbours begging the said guy to accept the pregnancy because they all know her to be his girlfriend. To make matters worse, his elder sister has suddenly moved in with the guy and now fights the lady whenever she comes around to creat a scene after the guy returns from work.
Anyway here's now the shocker, the guy in question sensing trouble has vacated the house and left the flat for his elder sister because his rent is still on. Just three Saturdays ago, the guy went to the registry to tie the knot with another girl and had their engagement party to make it official. He now currently lives elsewhere where this model babe does not know, and the girl has been left to carry her cross. His elder sister has also vacated the flat even though the rent isn't due.
As you read this, the lady in question is on a major bill board for a MAJOR brand on Ring Road, which is a highbrow area in Ibadan. The photo for the shoot was taking few months back because she is about 5 months pregnant at the moment.
---
Posted: at 10-11-2015 11:29 AM (7 years ago) | Hero