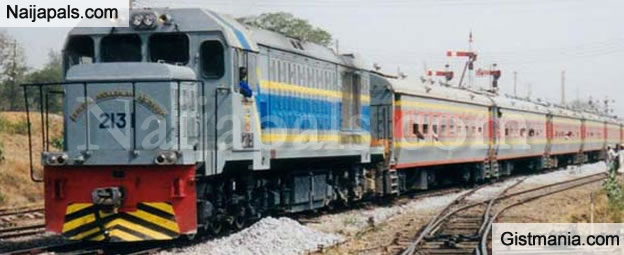 It was tears in Oyingbo area of Lagos as a train crushed a deaf and dumb graduate to death cutting him into two. The victim simply identified as Ibrahim was said to have died after a train which took off from the Iddo station cut him into two as he tried to walk past the track on Tuesday around 2pm. According to the residents, efforts to save the victim who hails from Ogun State were abortive as he did not respond to calls and shouts by the people because he was deaf; when he eventually reacted, it was already too late as the train chopped off his arms and legs. It was gory scene!
His remains was gathered and covered with leaves. His shoes and blood stains could be seen littering the area.
A witness revealed that Ibrahim was heading towards the Oko Baba area. He said, "Ibrahim was a graduate of a university in Ibadan, Oyo State. He came to Lagos to work. He was deaf and dumb.
"Around 2pm, after observing the Islamic prayer, we saw him walking beside the track; then he entered the main track.
"When we saw the train hooting and he continued walking, we became alarmed. Some people threw water on him, while others even threw stone at him. But he did not pay attention. He merely shook them off and readjusted his cap."
Some residents have complained that the government is not doing enough. In fact, they are asking the government to build a better barrier that would help prevent people from falling victim to this type of killing. The Police Public Relations Officer, SP Dolapo Badmos, confirmed the incident, adding that the Railway Police Command was investigating the case.