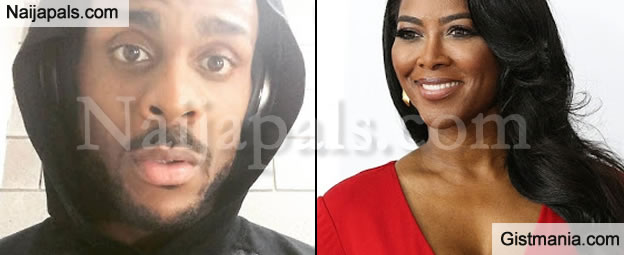 Accusations has continued to fly between The Real Housewives of Atlanta star Kenya Moore and her ex-boyfriend Matt Jordan.

Since the current season began airing, Matt has claimed via social media and interviews that Kenya manipulated and used him for the sake of securing her position on the show. In his latest claim, he accused Kenya of cheating on him during their relationship.

In a lengthy Instagram rant that he has since deleted but not before it was captured by bloggers, Matt accused Kenya of cheating on him with a married Nigerian man for money.

Matt even claimed that Kenya's co-star Porsha Williams was right all along when she claimed in the last reunion show that Kenya was involved with a "one-eyed African."


In his Instagram rant, which was accompanied by a photo of him and Kenya during happier times, Matt claimed that during their relationship, he found out that she was involved with a married man in Nigeria for money. Matt accused of Kenya of "dealing" with not just one but multiple men in exchange for money.
"Ive been hurt, drugged, embarrassed, violated and flat out disrespected by shorty. I sat in the hospital waiting room for 5 hours wondering what was wrong with shorty. I sat and watched her hold hands with another man while I sat back and watched (yes we were already seeing each other.) I had to find out from some third party that she was deal with some married man in Nigeria for money, and that one of them cut her off because she she talked about the relationship that was supposed to be private…"
Matt continued to name one of the men that Kenya was supposedly involved with. According to Matt, Kenya had his name listed on her phone as "jojo Nigeria." He further claimed that when his mother confronted Kenya about this man, Kenya told her that he was simply an investor in her hair care line. According to Matt, Kenya's relationship with this "jojo Nigeria" went beyond simply that of a business relationship.
"How when throughout my entire relationship she is texting "hey baby hey sweetie" i miss you" "when are you going to send for me." to some mothaf**ka name jojo Nigeria (how the num is saved) Then tell my mother he is a investor you use him to fund ya haircare line…You saying he used to date ya friend??? Who Kenya? then why you letting him call you baby sweetie hunnie??…"


Matt Jordan then brought up Porsha Williams' accusation, made on The Real Housewives of Atlanta season 8 reunion show, that Kenya Moore was involved with a "one-eyed African." Apparently, Matt, who actually attended the season 8 reunion show as Kenya's supportive boyfriend, now believes that Porsha was right all along.
When Kenya confronted Porcha about being violent with people, Porsha shot back saying that they should talk about the relationship she is having with a married "one-eyed Africa", adding that the man in question was a preacher and that Kenya was with him in a Los Angeles hotel room. Kenya replied:
"Girl what are you talking about? Oh shut up...What are you talking about?"She later clarified in a tweet that the man is "a respected and loved businessman who only walked down a street with her"

Five days ago, Matt posted a photo of himself and indicated in his caption that he was working on improving himself. Many people left comments telling him to stop letting Kenya use him and to think of all the harm that she's doing to his reputation. In response to one comment, Matt admitted that he was immature with Kenya but defended himself by claiming that Kenya abused him like a dog almost every day.

"Lots of truth in this statement. I too feel as tho I have jeprodized my real life rep… I believe I will be fine tho. Many people understand the nature of the business as it seems you do too. In addition they understand the nature of the women I regrettably fell inlove with. Ive learned thought this sItiuation that no matter how many times a women can violate disrespect, use and manipulate a man. If i even get upset once IM DEAD WRONG. I admit my emtional intelligence was low with kenya. However I have never been abused like a dog…almost daily. Yes the other brother walked away, i should have too. If I wasent in love it would have been easy. Yall seem to go back and forth tho is she exploting the situation for TV or is she a scard abused women. Choose one.?"
---