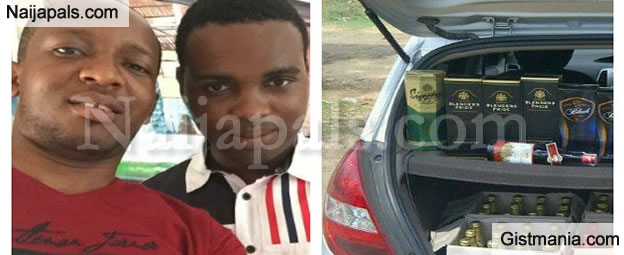 Folks help me to thank God that saved the life of my best friend and good man Ezekpudoghu Chijioke

5 days ago, he rang me: "Nwokem where are you"? "Are you home so I can drive over and pick you for us to go to Oko "

I told him I was going to Awka for a meeting with a client so I won't be available.

What this means is that I won't be joining him to Oko community for the outing we earlier planned together.

I was disturbed when I later rang his number on Monday night to know how the outing went, no response.

I rang again on Tuesday, his number this time around was switched off. I rang again on Wednesday, the same story.

Instantly, the alarm bell in my head went off.

I was making arrangement to visit his house to check up on him only to see a call from a relieved and emotional call from him on my phone that Wednesday night.

Apparently, on his way to drop his companion on Monday night at her house in Oko,, he was waylaid by Armed robbers who double crossed his car and what happened next seemed like a scene out of a Nollywood movie.

These sons of dogs barked at him to surrender his car key. The occupants of the car were robbed of everything they had with them.
The only thing that were left for them is just the shirt and trouser he wore that fateful day.

As if the trauma was not enough, he was instructed by these idiots to enter the car boot of his own car. The criminals want to take him on an interesting journey, he was told.
His only saving grace was that prior to driving down to pick his female companion, he bought cartons of wine for his family's Easter celebration meaning that the car boot was not free for him to enter.

When the criminals saw that there was no space for him in the boot, they had to hurriedly leave him behind and then fled with their loot.

My good man was smart enough to install tracker in his car, the only problem is that he does not have access to the internet because his internet modem was taken from him by these guys together with his phone. So he had to wait till the next day, traumatized and heart broken before he could have access to the internet.

Guess where his car was? Badagry community in Lagos

What this means is that these guys drove all the way to Lagos the same night after collecting the car from him.

He had to demobilized the car, mobilized policemen in Lagos to go and pick the car on his behalf and will soon fly to Lagos to get his car back.

Psalm 121 vs 1-2, says and I quote:

1 I lift up my eyes to the mountains—

where does my help come from?

2 My help comes from the Lord,

the Maker of heaven and earth.

When you know that Your source is from God, trust me, he does not fail nor disappoint.

Dear young person reading this, go and install a tracker in your car. You never can tell what will happen next.

Nigeria is a crazy place to stay but one thing I know and I'm sure is this: God will always have the back of his own.

This is my friends testimony. Join him in praising God.

You see this God! He is able.


---
Posted: at 17-04-2017 08:22 AM (5 years ago) | Hero