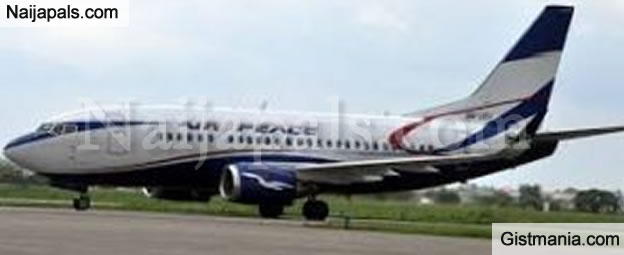 Two aircraft belonging to Air Peace Limited had a ground collision, on Thursday, while one of them was trying to maneuver its way out at the apron wing of the local terminal of the Murtala Muhammed Airport (MM2) Ikeja, Lagos.
The incident, which occurred barely 48 hours after an Aero Contractors aircraft was engulfed in smoke while attempting to land at the Lagos airport, has raised serious safety questions on the local airline industry.

Spokesman for Air Peace, Mr. Chris Iwarah, who confirmed the incident to journalists, said the airline had taken a precautionary decision to stop the affected aircraft from flying.
Said Iwara,

Quote

"We confirm that at about 6.15am today, the winglet of our B737 aircraft with registration mark 5N-BQR, which was being towed within the very limited space at the ramp of the Murtala Muhammed Airport in Lagos to position for departure, had a partial contact with the stabiliser of another of our B737 aircraft with registration mark 5N-BQP."
"Although the points of contact of the two aircraft were only slightly impacted, we took the cautious decision to declare them unserviceable to enable proper investigation of the incident, checks and repair by our Engineering and Maintenance Department in line with our high safety standards.
"There were no passengers on the two aircraft involved in the incident. We have also revised our flight schedule to cater to our esteemed guests on the 14 sectors the two aircraft were scheduled to service today.
"At the moment, everything is working according to plan and our engineers have already begun repair of the aircraft,"

Iwara added.

It would be recalled that about a year ago, two aircraft (Airbus 310) belonging to FirstNation, also brushed each other's wings at the airport. It would also be recalled that within the same period, an Emirates aircraft, Boeing 777-200 with over 300 passengers onboard had a ground collision with Hak Air aircraft parked at the apron.
The Emirates aircraft, with the flight number EK782 Lagos to Dubai had its right hand wingtip with contact with the tail of a Hak Air aircraft parked at the apron of the airport. Some industry analysts have pointed out the need to do a further expansion work on the apron of the Lagos airport to accommodate more aircraft and end the many incidents of aircraft collision.
---