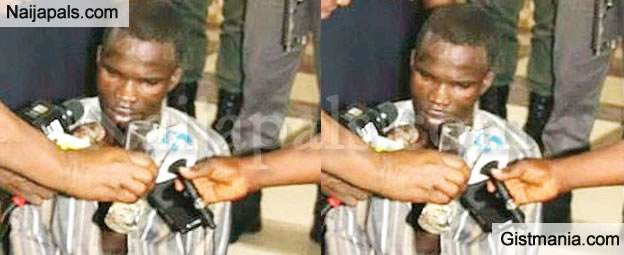 One Ifeanyi Dike, a suspected ritual murderer and kidnapper,

was Friday arraigned before a Rivers State High Court Number 9 presided over by Justice Adolphus Enebeli.

According to Nigerian Tribune, Dike allegedly murdered the late 8-year old girl, Chikamso Favour, his niece in August 2017, after r*ping her and harvesting her genitals.

Also arraigned before Justice Adolphus Enebeli is: Ogochukwu Nnamiro who is the second accused person and Sergeant Johnbosco Okoroeze, third accused person. They were arraigned as accessories after the fact of murder.



A mild drama ensued in court as Ifeanyi Dike, gave a loud shout after his case was mentioned and thereafter he refused to take his plea.

His counsel, Lizinna Ameegua urged the court to order that a mental examination is carried out on him to ascertain his mental status.

Presiding judge, Justice Enebeli declined the request.

Thereafter, Ifeanyi Dike collapsed in court. The court entered a plea of not guilty for him, while the second and third accused persons also pleaded not guilty.

The matter was adjourned to January 16, 26 and 29, 2018 for a definite hearing with Justice Enebeli saying that the matter would be heard on a day to day basis.

Earlier in the court, Counsel to Ifeanyi Dike, Lizinna Ameegua raised an objection to the trial on the ground that the information filed by the prosecution was incomplete. He urged the court to discharge the first accused person. The court dismissed the objection.

Addressing journalists after the adjournment, Rivers State Attorney General and Commissioner of Justice, Emmanuel Aguma (SAN) said he expects the case to be heard expeditiously.

He said that no party in the case is entitled to more than three adjournments in the course of the hearing.

He said one of the reasons for the adjournment on Friday was for Ifeanyi Dike to get medical attention.

Secretary of the International Federation of Female Lawyers, FIDA, Barrister Nnenna Igbokwe expressed confidence that justice will be achieved on the matter now that trial has commenced.


---