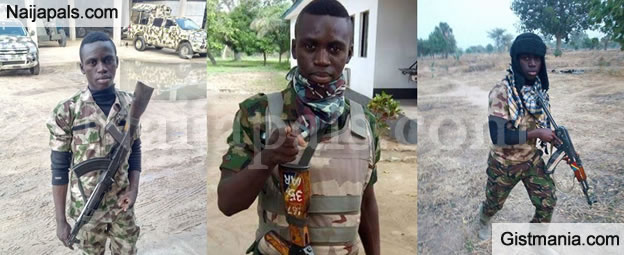 A young Nigerian soldier identified as Jerry Clement who has been on the battle field for months at Maiduguri, Borno state, was said to have lost his life in a motor accident.
Clement who was at Kaduna as his friend shared chats was running his military course when he involved in a ghastly motor accident claiming the lives of two of them.


How ever, his friend Michael Lee made his tribute. He said;
What A World!
U walk through the valley of Death in Maiduguri & U survive but just to come & run your Military Course, U are Gone!
I'm speechless & Dunno what to SAY…
But U will continue to Live ON My Bro & Blood
Rest Well Jerry Clement
#T72MournU
#ToTalLoss


Other co-soldiers also shared their Condolences
Adeola Quadri said;
Sometimes i wonder wat hope did we have in this life, how someone can jst die in the twin kel of an eye, we spoke 2 days ago and today he is no more , wat a great loss , gnr Jerry Clement u left too soon, bt god understand the unknown , i pray u make heaven insha allah. RIP BRO.


Monday Odeh said;
why did you finaly leave us>why did you not survive>why would you leave all this pain in our eyes>i wish you could wake up>but God knows why>so i hope and pray you rest in his bossom>>i love you both and i'll miss you so much>>i'll always remember you till we meet again>>>


Xto Udak said;
Can't just believe you are no more, I find it hard to believe hour before the accident you message me , your death really shock and surprise me, I remember we spoke on Wednesday evening which you promise to come back after course to see me before your untimely death, we all miss you, words can't bring you back may your soul continue resting in peace,


Oyewale RA said;
on 02-02-2018 wot a sad day @ kaduna road around 8 o'clock where sum cars hit each other and we lost 2 of our gallant hero and one seriously injured b4 de accident i saw both of dem cos we are 2gether in the same class we read and study 2gether when dey are in WAR fronte death did not 2uk dem but while on course de death came and 2uk dem away when de where on town pass 2 cash dere salary in de bank dey went and dey could not return back REST ON GREAT HERO OF OUR NATION GNR Jerry Clement AND GNR nuhu ibrahim we luv but Allah luv most


Ifunnaya Boniface said;


Quote

Nooo I can't believe wat am hearing dat u are no more I can recall when last we talk, chart, but for me hearing now dat u are gone I can believe it my heart is filled with sadness and sorrow death u are so wicked. When u were in d front line of war death didn't com, but only to go and cash out your salary in d bank on your way to go back to course accident happened and death came and took u death u are so wicked, rest in perfect peace my Gallant hero u shall live and remain for ever in our heart ♥ till we meet again.



Problem with this article? Please contact us