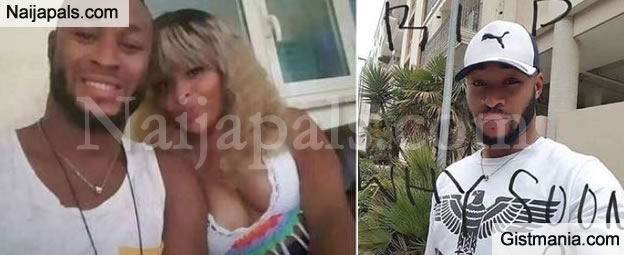 A promising man has seen his life cut short after allegedly engaging his girlfriend in a brutal fight at a nightclub in Italy.
A Nigerian man living in Italy identified as Evangelist Igg has reportedly lost his life in a most sad manner.




Information gathered revealed that he was brutally stabbed to death by his girlfriend, yesterday while the duo were fighting at a night club in Italy. The sad incident happened after a disagreement.




Friends took to Facebook to mourn him.

Nosa Diamant wrote: "Oh death why did you decided to visit my beloved like this . Evangelist Igg . IGG so I will not see you again. Why did u decide to go without saying good bye was expecting your call today IGG you couldn't call to say bros bye . I will forever miss you my dearest brother and friend . bro you broke my heart leaving us like this at this time . I just can't say R.I.P to you bro cos I refuse to accept it. Calistus pls return if possible and tell us you are joking."

Gallant Qvng added:
"If tears cud build a stairway
And memories a lane,
I'd walk right up 2HEAVEN
and bring u bak HOME
Rest in Peace Bro Evangelist Igg
Gone bt nt Forgotten ."

Khing Zee wrote:
"GOD'S PLAN WE ALL MISS U BRO RIP RIP SO SAD
#IGG #Evangelist
WE all Miss u brother
WE pray Almighty Allah
Grant u Eternal Paradise Amin
THE ENTIRE Jtowm Miss U BRO

#IGG #EVANGELIST ."
---