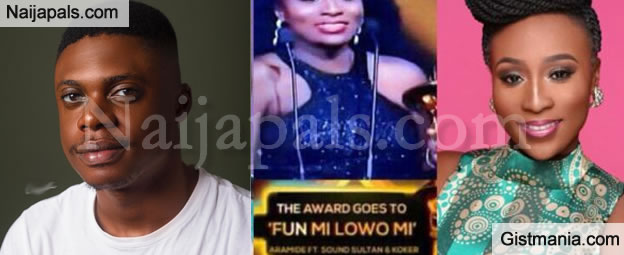 Aramide at the 2018 Headies on Saturday won the Best Alternative Song award for her song "Fun Mi Lowo Mi" featuring Sound Sultan and Koker.

Comedian Ebiye shared a photo on his Snapchat, of the singer accepting the award with the caption:


She can't even believe it, lol she prolly f***ed for the award. #Headies

A screenshot of the comment soon circulated on social media and the comedian was put on blast.

The comedian, on his Instagram, has apologised, terming the comment as a "distasteful joke." He wrote:

I made a distasteful joke about @aramidemusic last night at the headies. I am embarrassed by my comments and I am profusely sorry. Aramide is a hardworking artist who deserves every recognition she gets by merit. I sincerely apologize and pledge that such will not repeat itself again.
I pledge to control my words in the future as things said and written cannot be taken back.
---