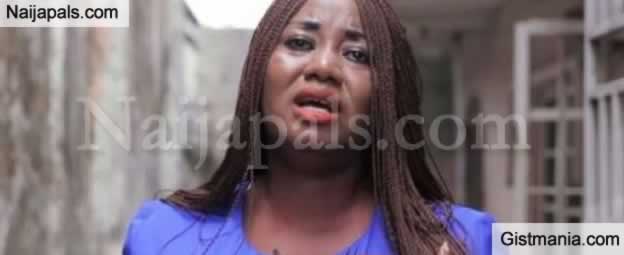 Violent J was sleeping one night when she began to feel pressure around her neck. She opened her eyes to the rude shock that her massive bosom was actually choking her.
It's difficult for people to believe a woman's Bosom could suffocate, but some women with big Bosom s have this challenge.
Since then, "I haven't been able to sleep on my back" Violent J told the BBC. in an interview originally written in Pidgin English and later translated
Violent J who is a mother of two said she is experiencing back and shoulder pain in addition to the weight of the Bosom s which are weighing her down.
She has decided to ease her struggle with her huge Bosom s through a surgical operation.
"I need a surgery" she said.
"After giving birth, the Bosom size didn't decrease and there was no milk inside. As I am speaking to you right now, my Bosom s are heavy on my chest. I wish I could loose my bra for you to see but that is not appropriate. Some people have big Bosom s but they are light. My Bosom s are heavy"
"My bra size is not even in the market and I have to contract fashion designers to make special bras for me" she added.
She went to complain that the Bosom s have affected her dressing pattern as she is always conscious of the kind of clothes she puts on to prevent causing a scene in public.
According to her, her bosom frequently causes a stir when she steps out with young men insulting and flirting with her. She is presently looking for money to undertake a surgical operation to reduce the size so that she could sleep well at night and ease the pressure on her body.
Having Big Bosom s is not a medical condition


Dr Aranmolate Ayobami who is a cosmetic surgeon said its normal for women to feel pains due to the massive size of their bosom but its not very common in the society.
In the medical field, such a condition that causes pains is called 'Macromastia' and the cause is not really known in medicine.


Quote

"I have operated on up 5 to 10 women in the last two years because of big Bosom s or giant Bosom s as they call the case" Dr Aranmolate Ayobami said.

"Its big Bosom s when women start to complain of back ache, bra line and injury. The Bosom s could be regarded as big when they not proportional to the body size of the person or not in correspondence with the person's age. In some books, any Bosom that is bigger than 1.5kg is regarded as giant Bosom s"

"A very huge Bosom could be as big as a bottle of EVA water. Most times, any woman with a Bosom size above D cup is regarded as big. The moment you start to reach E, G, H, its clear a big Bosom ".
"An average women should wear a bra size of C and D in terms of cup size" the medical practioner insisted.

"Women with big Bosom s have no health issues and there is nothing to fear. Its just a big Bosom "

"The simple solution is Bosom reduction. What we (doctors) do is to cut off some parts of the mammary gland to reduce the size. A plastic or Bosom surgeon could take care of that."

I will advise busty women not to lose sleep over it. They should just visit the nearest hospital that deals with the health of Bosom or specifically a plastic surgeon to resolve the problem"

he concluded.

Watch part of Violet J's interview below:


Published at:
02:42 PM, 17/05/2018 (9 months ago)
Author:

onuigbo felicia
Problem with this article? Please email reporter[at]naijapals[dot]com or visit our contact page
---