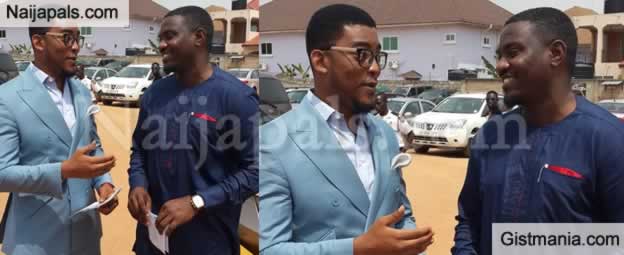 A couple of months ago, after John Dumelo got married, actor James Gardiner came out to confirm reports that Dumelo and his sister had previously dated and that John had dumped her and gotten married to another lady, Gifty Mawunya.

We at the time was asked about the issue and he said he was completely okay with it as both John and his sister are adults who dated and mutually agreed to part ways.

However, in a more recent interview with us, it's obvious Gardiner is pretty pissed at John who he dubs a womanizer and said he's not like him.

According to him, when he tells a lady something he does it and he doesn't 'mess around' with them like John does. Gardiner, speaking to Delay, said John is a womanizer who breaks ladies hearts.
"I am not like that (like John). I don't mess around," he told Delay.

When Delay asked him if he sees John as someone who plays with ladies and discards them, he said yes, John is fond of that.

Gardiner obviously was initially playing diplomatic about Dumelo breaking his relative's heart but at this moment it seems he doesn't give a rat's a$$ anymore.
Problem with this article? Please contact us
---