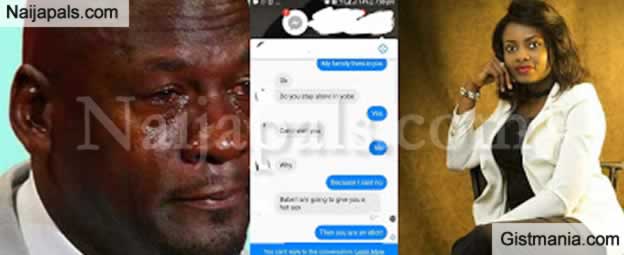 Things we see online. It's no longer news that most men end up embarrassing themselves in ladies inbox with their lustful s*xual desire. Most men now see all ladies they meet online as an s*x object. Some end up sending their unclad photos to ladies even without the girls asking for it.


This time, one Francis Lilian has shared a conversation she had with an aged man who offered to give her a hot s*x, cautioned others who are still planning to do the same.

Read her post below:
Quote
I find it strange when a full grown man will look at a full grown woman and all he can see that she needs in this life is S*x, or all he can see that he can offer with his miserable life is S*x. I don't understand it. You don't know me, never met me, don't even know if I'm human or spirit, and you have the guts to come to my inbox to utter some rubbish to me? The impetus! Imagine. And this is one of so many o. The other day a little boy came inbox to boldly tell me he wanted me to be his sugar mummy,ọbara Jesus. I can't still understand it. How I get these ones as friends sef I don't know. Maybe all those days I just accept the request without going through profiles, this is what I get na.
So to the purpose of this rant, if you know you are in my inbox or list and planning to come and say this rubbish or something related to it, kindly delete and block yourself ozugbo, before you get to that river and be unfortunate. I can have bad mouth ọ, and it's not the only insult I will give you. I will curse you. Respect yourselves on this space biko nụ. Thank you.
---
Posted: at 18-09-2018 11:10 AM (3 years ago) | Hero