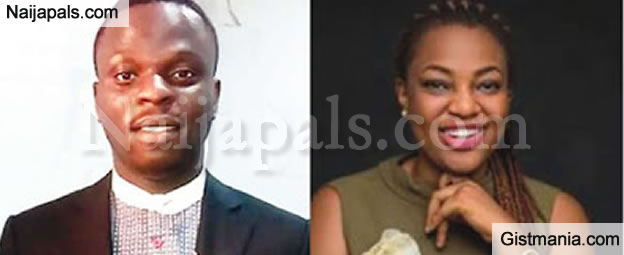 A Nigerian pastor who was recently involved in a s*x scandal, has given some prophesies on the state of the nation and the 2019 election.

The Senior Pastor and General Overseer of Zionwealth Of Life Assembly (ZOLA), Lekki, Lagos, Apostle Chris Omatsola, who was embroiled in a s*x scandal in 2018, has given shocking prophesies and predictions on Nigeria, Elections and 2019.

It will be recalled that the pastor made headlines months ago after his s*x tape with his former lover identified as Princess Tamaratokoni Okpewho surfaced online.

Below are the prophecies released by the pastor.

1. I see serious blood share in River. Governor Wike Victory is of the Lord, but God said he should do more to stop the blood bath in River State, because 2019 is Horrible.

2. Atiku Abubakar is my friend but his destiny pair with Peter Obi is not from God and very unfavorable, nothing will come out of his political partnership with Peter Obi. It might look fantastic but not of the Lord. Atiku may lead Nigeria but definitely not with Peter Obi, wrong destiny pair.

3. Senator Dino Melaye should be prayerful, the root of what he is going through is not just political. It has to do with the Melaye foundation, his foundational powers are fighting hard against him, because he is going against the convenant in the Family. He needs prayer. His problem is not Buhari, Jonathan or whoever. His problem is foundational forces. There are things I may not say in public. The Melaye's do not rise above a certain level before they fall down. He needs help.

4. Nigeria at risk to loose a former Head of State, a former Governor, Elder Stateman in 2019. Pray!

5. Two Top Politicians will loose their kids in 2019, Pray For divine intervention.

6. Jonathan will receive more international Honor, recorgnisions and appointment in 2019.

7. Emir Sanusi Lamido Sanusi should expect more blessings with Grandchildren in 2019. I see more peace, happiness and Joy in his reign amidst more criticism. God said the Man that will take over from him is not born yet.

8. Governor Nasir El Rufai should not weep again over a child lost in 2019. I see the strange hand of death in the family, Please Pray against that.

9. God said Governor Rochas Okorocha should calm down and let the will of God be done in Imo State, God said he should be Grateful for how far he has brought him and made his dreams come through. God said his health will not disappoint him, i see an evil hand against his health and other things I would not want to say in public. Please Grateful and Pray such.

10. NYSC coppers posted to Northern Nigeria should be very careful, I see lost of lives and property. Please Pray against this.

11. Nigerian Government should take the fight against Boko Haram seriously because there are more evil plans slated for Nigeria by the insurgency in 2019. In their map, they are determined get Nigeria down, there is currently a serious plan and reinforcement in the camp.

12. President Mohammedu Buhari is God's mandate for 2019. God said he is giving President Buhari another opportunity to make History. Here is his opportunity to leave a lagacy as he has always desired in his heart that Nigerian will never forget him. APC should be care of major breakout after 2019 elections. I see the hand if divisions amidst Victory. Please take note. I see surprise Victory for APC. APC winning more states and spreading more in 2019. Adams Oshiomole leadership in APC will benefit the party spiritually and otherwise.

13. Nigerian Pastor should be more careful. I see fierced financial Criticism against the Church of God in Nigeria. Satan is waging a serious but loosed battle against the Economy of the Church of Nigeria to weaken it's strength, vioce and effectiveness. I see more daddy freeze rising online against the Church and Men Of God.

14. Former President Olusegun Obasanjo should be careful of traditionalist around him, there is envy and a plan against his health and wellness. Please Pray about it.

15. Senator Bukola Saraki should quickly make peace with those it concerns so as to avoid fall and shame. I see serious contention and lost of territories. I see lost of political influences. I see a great rise and opposition against him. Please act swiftly, wisely and accordingly.

16. Rev. Fr Mbaka should be careful against assassination attacks. I see the tiredless hand of death attack against the Man of God. God said he should reduce his political involvement and activeness. He should focus on his original calling. Please pray and act accordingly.

17. Nigerians should be careful and watchful against another poisum scheme it may be worse than MMM, it will end in pains, losts and tears.

18. Nigerian Senate may lost another prominent senator to the cruel hands of Death in 2019. Please Pray.

20. Young ladies should be careful with their life and pray against every form of ritual attack. There is the evil spirit of ritualism in the society amongst young adults and unfortunately ladies are the victims. Please pray and be careful. However, parents should pray against teenage cultism as there is an evil agenda to destroy lives of young adults. Please pray.

21. A mega building collapse may claim lives somewhere in the Southern Nigeria. Please Pray.

22. Security operatives in the South South Niger Delta region should be at alert, I see blood she'd and tension. Please Pray.

23. Grandchildren amidst Joy and happiness in the household of Senator Rabiu Musa Kwankwoso. In 2019, I see peace and stupendous joy. I see health and happiness. Be more Grateful to God Almighty.

24. In 2019, I see attack from media on Davido's personality amidst greater accomplishment, I see him running new personal businesses and project outside music. Davido should pray for his late mum, set a foundation to honor her and never let her name die and be forgotten. I think it's her wish. Davido should be very careful about people around him and should closed his cycle a little bit, he should be careful of food poison. David should bring his kids together and avoid anymore baby mama because another might be on the way. Please pray and act accordingly.

25. Daddy freeze should ask God for forgiveness and seek the face of God more than never before. God said he is not doing the body of Christ any Good. Please Pray.

27. Burna Boy should honor and idolize his mother the more if he is interested in going even higher and continue to break new ground. God said he should reduce his intake of drugs. Won't want to say more in public.
---
Posted: at 20-01-2019 03:11 PM (4 years ago) | Addicted Hero