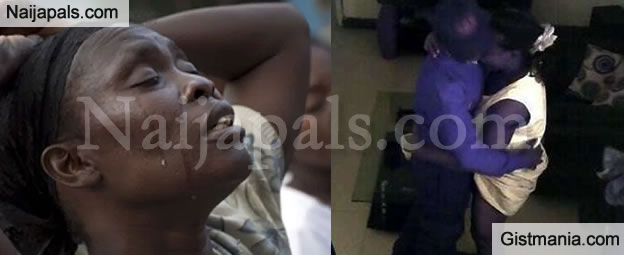 A woman, Olaitan Alesinloye has approached Ile Tuntun Customary Court, Mapo, Ibadan, seeking that it puts an end to its seven-year-old marriage to her husband, Abiodun Alesinloye.

Olaitan alleged that her husband was irresponsible and unfaithful to her. The plaintiff therefore prayed the court to abort their relationship and grant her custody of their two children.

She further appealed to the court to make him responsible for the welfare of their children. Olaitan told the court that:"My lord, I have stopped understanding my husband since we had our second child. We both relate like strangers and I'm tired of such a lifestyle.

"I don't know my husband's movement because he doesn't inform me of his activities. He stays back at home during the day and goes out when it's dark. I can't remember the last time he slept at home and when I demand to know where he slept, he would dismiss the issue with the wave of the hand.

"My lord, I later got to know he's having an affair with a Ghanaian woman and that he's always sharing her bed every night. I got more proof the day I caught him relaxing in this woman's shop.

"I reported him to his parents who rebuked him. Angry, he came back home to beat me.

"He moved out of our rented apartment when the rent was due and abandoned me and our children there. I likewise packed my belongings and that of our children and moved to my parents' house.

"My lord, he has not asked after me and the children going to nine months now and never bothered about our welfare.

"I pray this honourable court to separate us and make him responsible for our children's upkeep, "the plaintiff stated.

"My lord, she's a liar. I gave our children N15, 000 in the space of three months. I'm also no more interested in a slot like her.

"I remained faithful to her and committed to every promise I made to her, but her best way of rewarding or appreciating me was to date and sleep with our landlord's son.

"She told me while we were dating she wanted to enroll for training as a patent medicine dealer after she was through with her education and I promised to sponsor her training.

"I not only fulfilled this promise but further sponsored her graduation and set her up in the business.

"My lord, I suddenly discovered she was always receiving calls at a particular time in the night and she would go out. I went through her call log and to my amazement discovered that it was our landlord's son that was always calling her at such odd hours.
"I confronted this guy and sought from him an explanation on why he was calling my wife at unholy hours. I got angry and slapped him several times for having the audacity to challenge my right to ask him such a question.

"My wife, on witnessing what transpired between us, took sides with her lover and fought me. She further went to report me to her parents and rather than listen to my own side of the story, her father took to her side and blamed me, "the defendant told the court.

He went on:"While planning for her brother's freedom, her father apportioned to me N20, 000 as my contribution towards the ceremony and I made this available to her family.

"My father in-law later requested that I help him buy a cow from my customer for the ceremony. I did, but he was to give my customer N40, 000 as balance for the cost of the cow. I paid the balance from my purse when I saw he was not forth coming.

"My wife, at another time, reported me to her father that I was having an affair with another woman. On hearing this, he got annoyed and came to pack her belongings from my house.

"Rather than ensure that our differences were settled, my father in-law instructed that I rented another apartment for my wife. I gave her money for a new place but to my surprise, she rented an apartment close to her parents' house.

"I stood against this and requested that she looked for another apartment but she refused.

"I, therefore, decided not to have anything to do with her again, "he concluded.
---