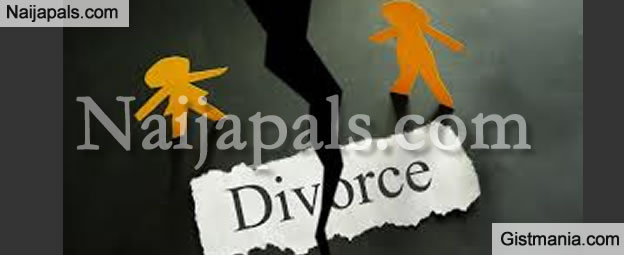 The Idi-Ape Grade C, Customary Court, Ibadan North East, Oyo State has dissolved the 20-year-old marriage between Muftou Ayinde and Chinyere Ayinde.

Muftou who dragged his wife, Chinyere Ayinde to court stated that they were not compatible and that she has failed to give him rest of mind.

According to the plaintiff, the defendant was in the habit of fighting him. He added that she has a caustic tongue and was always raining curses on him in the middle of the night.

Muftou thus prayed the court to dissolve their marriage.

"My lord, my wife and I are not compatible and I am fed up with our marriage. My wife has ceased to give me peace of mind. She curses me at the middle of night. I once caught her naked, cursing me.

"She a thief and is in the habit of stealing my hard earned money which is one of the reasons for our fight.

"We once fought over this issue and she bit me on the leg. I hit her with my guitar and later left the house for her. But she came along with her sister to my office to beat me up.

"Any time she fights me and I threaten to come to court, she will plead that I forgive her with a promise to change, but she will soon go back to her old ways.

"My lord, my mind is now made up, please separate us, "he pleaded.

"My lord, I'm also fed up with our union, "the defendant told the court.

"My husband is full of atrocities. He's a brute. He accuses me of stealing his money and beats me blue-black. He once beat me with a dangerous object and I was admitted in the hospital. He showed no care and gave me no attention throughout this period.

"He also keeps late night, smokes and drinks himself to stupour on regular basis.

"He was a caring man in the past and even took me and our children out to eat in the eatery on my birthday. He suddenly changed and peace ceased to reign in the home.

"I reported him to his sister who, rather than mediate in the issue, took sides with him.

"My lord, I tried to manage our relationship and was always apologising and pleading with him anytime we quarreled because of the children but I'm now fed up with him.

"Of recent, he has been threatening me with dangerous weapons.

Reacting to the allegation that he beat his wife with dangerous weapon, the plaintiff stated that he did that for self-defense because his wife usually beat him in the past.

Having listened to the claim of both parties, the court president, Mr Moses Oyekanmi dissolved their marriage and awarded custody of their children to the defendant.

The plaintiff was ordered to pay a monthly allowance of N15,000 for the upkeep of their children.
---