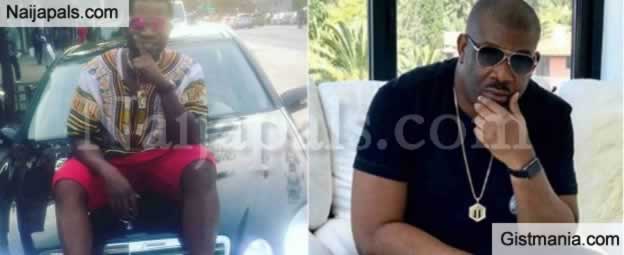 Speed Darlington has just said ace producer Don Jazzy, despite his not-so-good voice, made it in the music industry, which he believes is enough motivation for him.

In a video he posted on his Instagram page, Speedy mentioned that if Don Jazzy could be living the best life with proceeds from music, despite his 'croaky voice', then he is sure he will be alright and it is just a matter of time.
He captioned the video:



Quote

'for sure my future in music industry is solid see voice and yet this guy has a very nice house or at least afford to rent in a clean neighborhood drives nice cars with this voice? I will be alright I know that for sure. Shout out to @donjazzy'.


If you recall, he recently fired a shot at embattled rapper Naira Marley, whom he claimed is talent-less. While wading into the lingering travail of the singer, Speedy mentioned that the fact that he is doing music doesn't mean he can't be into crime, so it is okay if they authorities investigate him.
Problem with this article? Please contact us
---