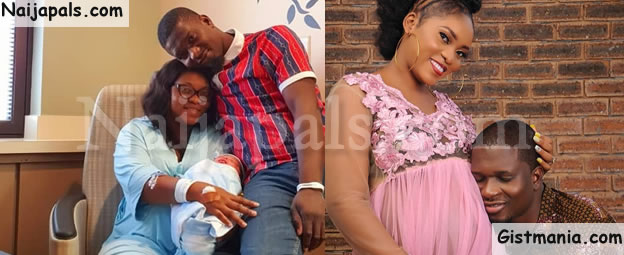 Nigerian singer, Doyinsola while announcing the birth of her 1st child after 6 years of marriage to husband, Mr Akinola, has opened up on how she suffered 3 miscarriages within that period.

The singer in her social media post then revealed that they had to resort to IVF, but didn't complete the process before getting pregnant again, and this time, it was a success.

In her words,

Quote

Meet the Akinola's. My Beautiful Family of 3.

Fun fact: Being married for 6years long before my music career started off professionally. Just didn't feel the need to play the married woman card. Don't ask me why, we just wanted to keep it that way. This young man came along and I can't but share my joy with you.

My Testimony:

I love babies so much and people around can attest to that. I wanted to have my own babies like normal couples do. Fortunately for us, without even trying I got pregnant with my first a month after my wedding and trust me I was super excited and looking forward to having the baby. Life happened and it ended in a miscarriage. Battled recurrent miscarriages ever since then, not once, not twice, not thrice. Took different tests, surgeries, lots of drugs" I hate swallowing pills but it soon became my best friend ", tried different hospitals and results always come back good. Hence the confusion and anxiety.

At this point we decided to seek other means of parenting method precisely IVF. After making some payments we were supposed to go back for some tests to get started but in the process of waiting. I got pregnant again and this time I carried my pregnancy to full term with a healthy and most beautiful human have ever seen to show for it.
Lesson:
Trust God's process cos his timing is best for us.
Forget all the packaging,I became really closer to my God and put all my trust in Him.
People will come up with advises of all kinds. Make up your mind, it's either God or nothing.
Be nice to everyone around you cos you don't have an idea of what battle they are fighting.
Prophecy positive things into your life always. Tell God what you want.
Do not give in to fear atall.
Stop asking irrelevant and sensitive questions like why are you not pregnant? If you care so much, mention them to God in your prayers.
You might want to bury yourself with work when you're down. I do that a lot and it helps. Get busy like really busy.
Be happy for people not jealous, so that your day of joy too can come.
I started to meditate on this bible verse alot Ezekiel12vs28
Marry your best friend, you might not appreciate it until you're faced with challenges.
TBC...
---