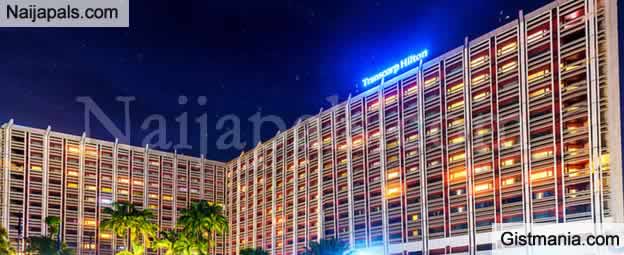 Foremost Human Rights Activist, Prof. Chidi Odinkalu, has criticized Transcorp Hilton Abuja for engaging in practices and issuing policies which according to him are discriminatory and against the law.



The erudite scholar voiced this stance while narrating an incident in which his sister, Ler Jonathan, was restricted from sitting at the bar for not being accompanied by a man.

Narrating the incident, he said:

"Yesterday evening on Human Rights Day, of all days, my sister Ler Jonathan goes into a bar on the ground floor of Hilton Abuja at the end of a long day of travel, settles in to request modest refreshing. She also has a business to transact; this is at the Lobby Bar. So, she calls the attention of a waitress for a menu. The waitress approaches and quietly disqualifies her from service. According to this waitress, "company policy" of Hilton Abuja precludes her from serving females who are unaccompanied by a man. The waitress then goes away and returns thereafter bearing her supervisor who affirms her. At this, Ler Jonathan asks to speak to the duty manager, who confirmed that it was Hilton Abuja's policy indeed not to serve women who are unaccompanied by men."

He added that the unstated premise of this so-called policy is twofold. That, first, the woman, no matter how old she maybe is an infant. Secondly, Hilton Abuja sets up a policy that effectively smears every woman who shows up in the place as a sex worker. Speaking on the policy, he noted that it is backward, discriminatory, and unlawful.

"This policy of Hilton Abuja is backward, discriminatory, and unlawful. In 1992 the High Court of Zambia ruled in the case of Sara Hlupekile Longwe v. Intercontinental Hotel, when the hotel excluded Ms. Longer from service because she was female.

"Subsequently, Intercontinental Hotel reviewed its policies, practices and staff orientation to bring them in line with the law. In Nigeria, Hilton Abuja chooses to make money from being offensively antiquarian. There have to be costs," he said.

He also noted that, meanwhile Transcorp CEO, who looks to run for government of Anambra State, has to sort this stuff before he saunters off on his political expedition. "This kind of practice under his watch can't be exactly very pleasing to the hardworking women of Anambra when they hear it," he added.

However, in a press release signed by the General Manager, Kevin Brett, the management stated that it frowns at discrimination.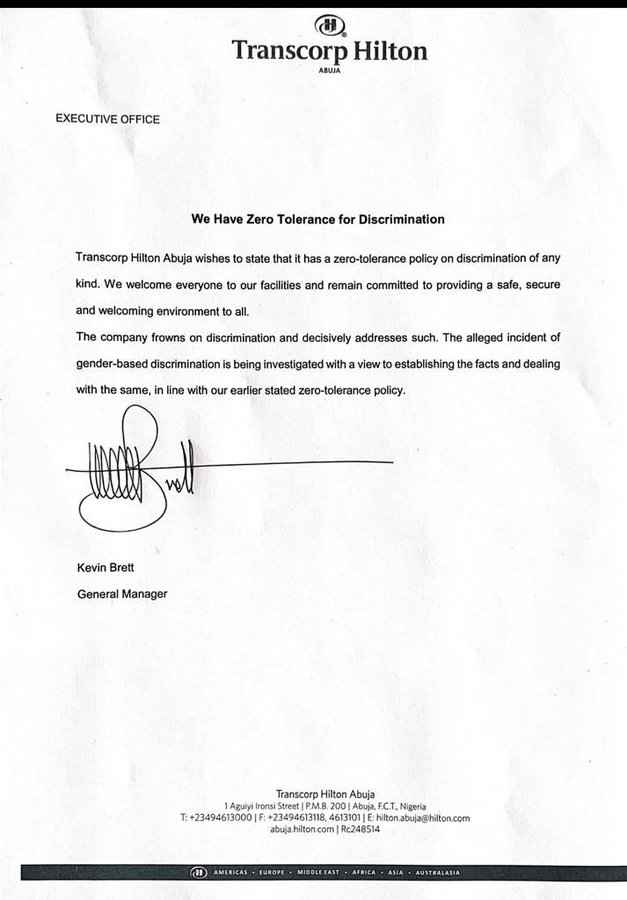 They also stated that the alleged incident on gender-based discrimination is being investigated with a view to establishing the facts and dealing with the same, in line with their earlier zero-tolerance policy.




---
Posted: at 14-12-2019 08:05 PM (1 year ago) | Addicted Hero