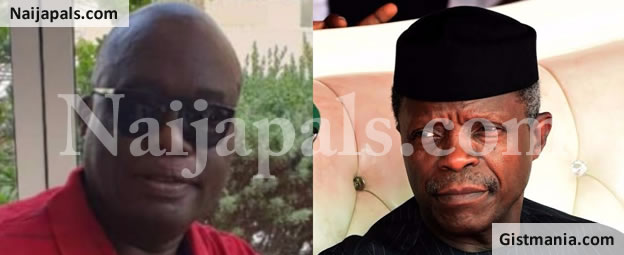 The National Organising Secretary of Afenifere, Abagun Kole Omololu, was arrested and detained by one of the police officers on the entourage of the Vice President, Yemi Osinbajo.

Omololu said he was arrested in Lagos State and detained at Onikan Police Station for obstructing the convoy of the Vice President.

Confirming the incident in a message sent to Punch, the Afenifere chieftain said:

"I have just been arrested by ACP Oludotun Odubona on the entourage of the VP Osinbajo, claiming (that) I did not park well for the convoy, in front of Nigerian National Petroleum Corporation, Ikoyi.

"Currently, I am in detention at Onikan Police Station, Awolowo Road, Ikoyi, Lagos."

When contacted about 9.17 pm, Omololu told newsmen that he had been released.

Omololu explained that he told the police officer that he had no sinister intentions and did not plan to harm the Vice President or his convoy. He said:

"It is just an act of overzealousness. I have been released. No condition was attached to my release. Senior aides of the vice president, including the ADC and Chief Security Officer, have called me."

The Afenifere leader also said the police officer almost slapped him during the altercation.

"He accused me of struggling with the convoy, which was not the case. I was only trying to move away. He came to meet me where I parked, raining curses on me.

"He nearly slapped me. Despite all my explanations that I am an elderly man, he insisted that I was arrested and taken to the police station. I told him that I respect the VP and I won't obstruct his convoy. He only embarrassed his boss. I know his boss will never do that," he said.
---