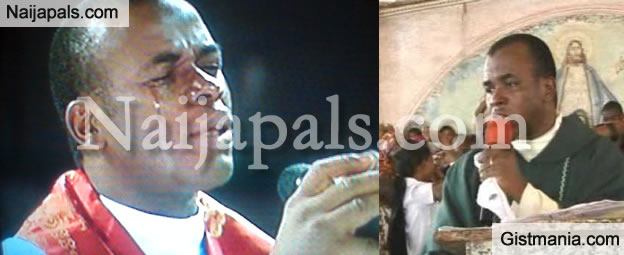 The Bishops of Anglican Church have asked the Catholic Church to call Father Ejike Mbaka to order.

The Bishops who spoke through the Archbishop of Enugu Province, Dr. Emmanuel Chukwuma, also asked Father Mbaka to discontinue from giving prophecies that will heat up the polity.

Speaking, Chukwuma said:


Quote

"We also pray that Father Ejike Mbaka should desist from his distortive prophecy and face his ministry. We call on the Catholic Church to call him to order. He is politicising his ministry too much and commercialising his ministry and that is dangerous to the ministry of the church and this we totally condemn."

The bishops also condemned the killing of Christian Association of Nigeria, CAN, chairman in Adamawa State and called on the Federal Government to assure Christians in the north and church leaders that they are safe by providing proper security.

They also called for the termination of the appointment of "the service chiefs who have over-stayed and are now irrelevant. They should stop deceiving Nigerians that Boko Haram has been defeated, which is not true with what is happening.

"A lot of money has been spent on the military fighting in the north and the result has been very much negative and so we say, enough is enough to avoid another civil war in Nigeria because the way things are going, Nigeria is not on a stead and it will come to a time when all of us will now cause a revolution in Nigeria to make sure we have good governance and security if we don't take time."