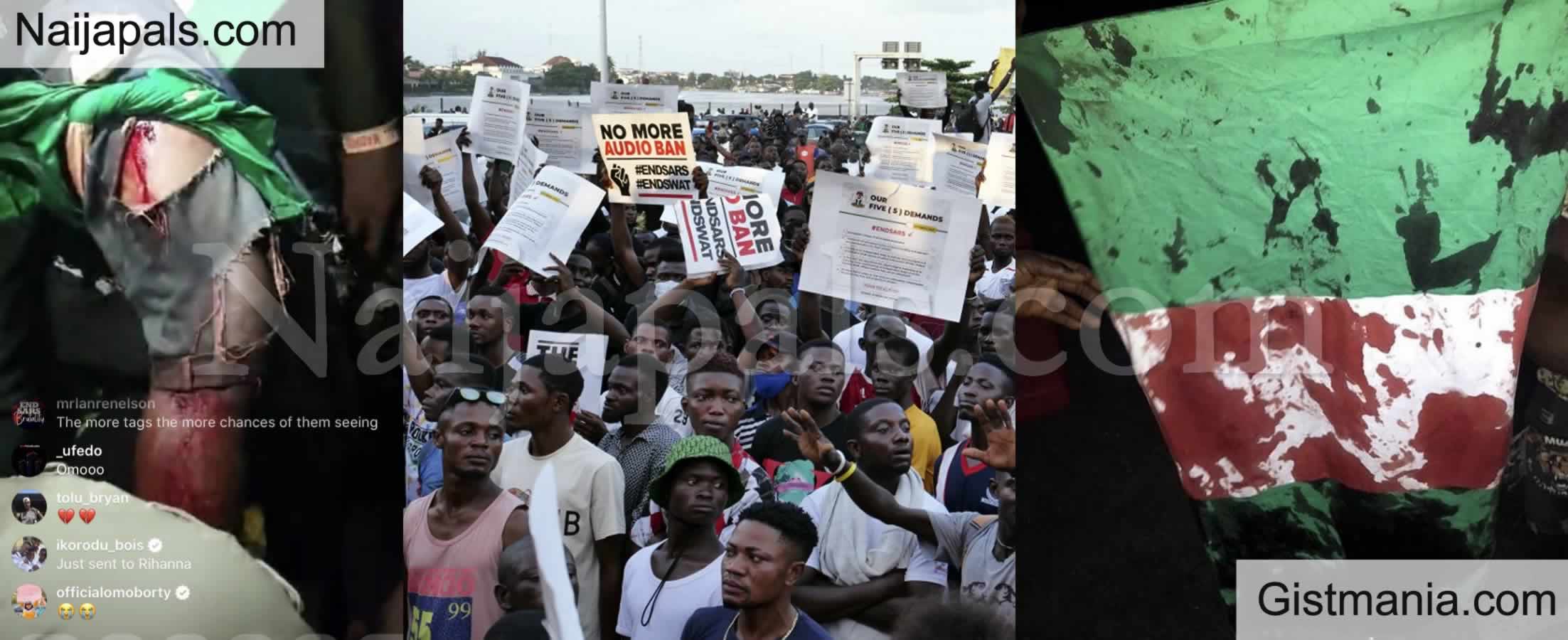 Nigerians in general and the nation's security agencies in particular, will not forget in a hurry, the violent twist that characterised the #EndSARS protests, last October, in which 22 policemen were killed across the country, scores injured and several others left in life threatening conditions by rampaging hoodlums that hijacked the peaceful protest.



One year after, a civil society group, New Nigeria Network, NNN, has disclosed that 300 #ENDSARS protesters were still in detention in Lagos, and urged the State government to take them to court.

Co-convener of the group, Mr Adesina Ogunlana, told Vanguard: "It is disheartening to note how the system is mangling the lives and destinies of those captured by government over #EndSARS disturbances in October 2020.

"Hundreds of citizens who were arrested as '#EndSARS protest criminals' by security agencies are languishing in prisons, with none of them undergoing trial at the courts.

"Information at our disposal does not indicate any arraignment at all of those already slated for trial at the High Court, courtesy of the legal advice of the Director of Public Prosecution, DPP, Lagos State, acting on behalf of the Attorney-General of the state since 2020.

"For the other category slated for trial at the Magistrate Courts, there has been no significant progress in the 'alleged prosecution' which is more of window dressing."

Ogunlana lamented that their bail applications were not granted, including those filed before a vacation judge because the office of the DPP opposed them. He cited the case of one #EndSARS protester, Seyi Awogbola, who he said had been in detention since 2020 as a case study.

"He was brought before a Magistrate Court in Yaba, where a holding charge was filed against him.

"The DPP legal advice submitted that information be preferred against him at the High Court.

"Till date, no information has been filed against him. Applications of two different counsel on his behalf have been turned down in two rulings by two different judges of the High Court of Lagos State on the ground of the severity of the offence," Ogunlana said.

Corpses of officers not released
There are indications that bodies of the slain policemen have not been released to their families for burial one year after.

This was revealed by the widow of the late Inspector Aderibigbe Adegbenro, who was attached to Meiran Police division.

She told Vanguard her late husband's corpse was still at the Ikeja General hospital mortuary. She said: "my husband's corpse has not been released for burial. We have made the necessary moves to ensure its release.

"I have gone to the State CID, Yaba and all other places I was directed to. We went there several times but nobody wanted to assist us in the release of the corpse."

Upon investigation, Vanguard discovered that an autopsy was yet to be conducted on the corpses, a reason some policemen who spoke on the condition of anonymity attributed to the possible delay.

Although the cause of their death is not in dispute, Vanguard was informed that it was a normal routine to get an autopsy report before the corpses will be released.

On further enquiry, sources said the Lagos State Government was yet to release money to conduct an autopsy.

Confirming this claim, Mrs. Aderibigbe said, "we were told that the Lagos State Governor, Babajide Sanwo-Olu, has not released money to conduct an autopsy and that he hasn't authorised them to release the corpse.

"Corpses of other policemen yet to be released in Lagos included those of Yaro Edward, an Assistant Superintendent of Police, who until his death was attached to Denton Police division; Inspector Ayodeji Erinfolami, attached to Anti Kidnapping unit; Inspector Samson Ehibor, attached to Ilasamaja division, Sergeant Bejide Abiodun, attached to operations department and Inspector Igoche Cornelius.

Also, information at Vanguard's disposal revealed that in Lagos, families of the slain policemen received cash donations of N10 million each, from the State governor.

In addition, Governor Sanwo-Olu also announced scholarship awards to children of the deceased officers up to university level.

Apart from the cash compensation by Sanwo-Olu, no other compensation, either in cash or in kind , has been made to the affected families by the Police.

Gratuity of the slain policemen have not been paid either, as of October 7,2021.

Lamenting, Mrs Aderigbe told Vanguard "October 23,2021 will be one year since my husband was killed. His gratuity has not been paid.

"But for Governor Sanwo-Olu's compensation, I don't know what life would have been like for me and my children.

"Apart from the Lagos State Government, no other person or organisation has assisted us in any way. All the promises that were made by the police and corporate organisations have not been fulfilled."

State of police stations

It is heart-breaking that one year after that historic showdown, some police personnel are still hanging around their stations like Internally Displaced Persons.

A visit to Isokoko, Orile , Ilasamaja, Igando and Makinde divisions in Lagos revealed that policemen use rented tents and plastic chairs to enable them to do their work.

There was also no indication of ongoing repairs in all the affected police formations nationwide.

In fact, some of the police posts have been completely vacated. The Iyana Isolo police post, for instance, now serves as an abode for lunatics.

A mentally deranged man was seen lying down in the premises when Vanguard visited. Although some of the looted fire arms and police uniform have been recovered.

A larger percentage of them are still in the hands of hoodlums a situation that presents a grave threat to society.

Replacement: Since the destruction of police formations and operational equipment that characterised the hijacked #EndSARs protest, record showed that the Lagos State Police Command has received donation of 150 double cabin vehicles, 30 patrol saloon cars, 4 high-capacity troop carriers, two anti-riot water cannon vehicles and eight Armored Personnel Carriers, APCs.

Theses were from the Lagos State Government through its established Police Trust Fund.

In addition to these are 200 security patrol bikes, 1,000 units of ballistic vests, 1,000 ballistic helmets, 1,000 handheld talkie talkies, office furniture, and other ancillary resources, for the command to effectively carry out its statutory responsibility.

On the other hand, due to lack of adequate wherewithal to efficiently perform their constitutional mandate, policemen, right from the rank of Commissioner of Police, to Divisional Police officers and other units commanders virtually go cap in hand begging state governors and other well meaning Nigerians for financial support to meet these obligations.

Disenchantment: Meantime, the police authorities have announced that policemen attached to every police station attacked by hoodlums will be promoted to the next rank.

But the move did not augur well with those who did not benefit, particularly policemen who put up rare acts of bravery to ensure their stations were not overrun by hoodlums.

Some aggrieved policemen who spoke with Vanguard on the condition of anonymity explained that they deployed the services of youths and members of vigilante groups within their communities to resist attempts by rampaging hoodlums to bring down their stations.

They expressed disappointment that they did not benefit from the promotion despite the efforts put in.

Others who spoke with Vanguard blamed their bosses for the death of their colleagues, disclosing that they were warned never to react during the protest, only for their colleagues to be made sacrificial lambs.

They also stated that they were given orders never to retreat even in the face of attack on their stations by hoodlums.
---
Posted: at 19-10-2021 07:00 AM (1 month ago) | Addicted Hero