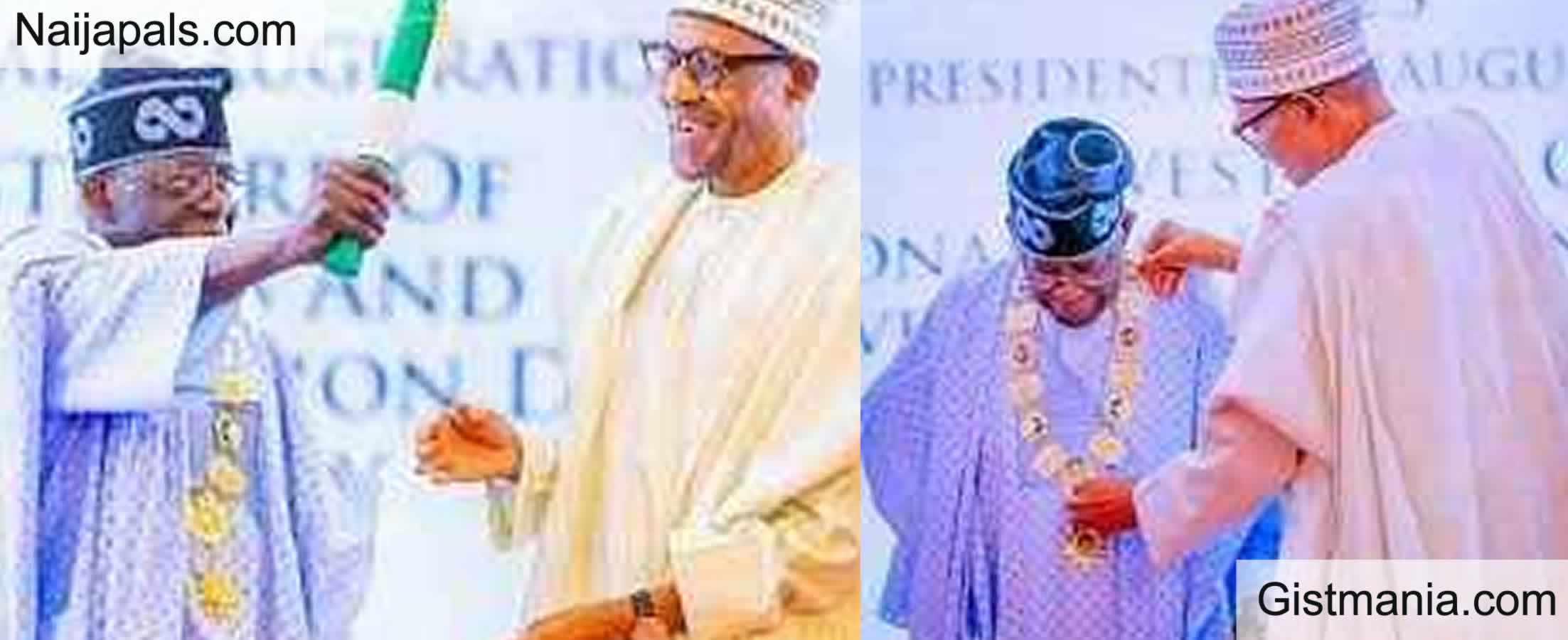 As President Muhammadu Buhari leaves office today, he has apologised to Nigerians over some decisions he took that brought pains and sufferings to the citizenry.

However, Buhari, who will hand over to President-elect, Asiwaju Bola Tinubu, today, gave himself a pass mark, saying he is leaving Nigeria better than he met it in 2015.

This was even as he regretted that his administration was unable to rescue some children still in captivity and said he mourned with parents, friends and relatives of all those who lost loved ones as a result of senseless brigandage and carnage.

Buhari said these in his farewell speech to Nigerians as he bowed out of office after eight years in charge of Nigeria's affairs.

The out-going president spoke amid high expectations and demands as Tinubu takes over, with the Yoruba Council of Elders, YCE, outlining reasons Tinubu must restructure the country without delay.

This was as the Catholic Bishops Conference of Nigeria, CBCN, scored Buhari very low in tackling insecurity but commended him on infrastructure, completion of the Second Niger Bridge and approval of Lux Mundi University, with Elder statesman, Chief Edwin Clark, describing Buhari as Nigeria's worst president.

Also, the Nigeria Union of Petroleum and Natural Gas Workers, NUPENG, counseled Tinubu not to rush into removing subsidy on Premium Motor Spirit, PMS, commonly known as petrol because of its socio-economic implications as the Nigeria Labour Congress, NLC, asked Tinubu to get prepared for challenges with Labour because Buhari did not conclude most industrial disputes.

Buhari's apology

Tendering his apology over policies that brought hardships to Nigerians, Buhari said: "In the course of revamping the economy, we made some difficult choices, most of which yielded the desired results. Some of the measures led to temporary pain and suffering for which I sincerely apologise to my fellow countrymen, but the measures were taken for the overall good of the country.

"Up-till now, I still grieve for our children still in captivity, mourn with parents, friends, and relatives of all those that lost loved ones in the days of the senseless brigandage and carnage. For all those under unlawful captivity our security agencies are working round the clock to secure their release unharmed.

"Our battle to ensure that all Nigerians live in a safe and secure environment has achieved considerable results. As I complete my term in office, we have been able to reduce the incidences of banditry, terrorism, armed robbery and other criminal activities considerably.

"As I retire home to Daura, Katsina State, I feel fulfilled that we have started the Nigeria Re-Birth by taking the initial critical steps and I am convinced the in-coming administration will quicken the pace of this walk to see a Nigeria that fulfills its destiny to be a great nation. I am confident that I am leaving office with Nigeria better in 2023 than in 2015."

Buhari urged Nigerians to capitalise on the power of unity by working together in one spirit and purpose.

Buhari said, "As your President, I call on all of us to bring to bear the strength of our individualism, the power of our unity, the convictions of our beliefs to make Nigeria work better and together with one spirit and one purpose.

"To my brother, friend and fellow worker in the political terrain for the past 10 years – Asiwaju Bola Ahmed Tinubu, I congratulate you on the realisation of your dream, which was propelled by a burning passion to put Nigeria amongst the leading nations of the world.

Nigerians chose well at the polls

"You have indeed worked for this day and God has crowned your efforts. I have no doubt that your passion for excellence, reliance on competence, fairness in relationships, commitment to equity, loyalty to the country and desire for Nigeria to be globally relevant would come through for you, under God's guidance, as you lead our country to levels higher that I am leaving.

"You are the best candidate among all the contestants and Nigerians have chosen well. The last eight years have been an exciting experience in my desire and commitment to see a Nigeria in which public goods and services are available and accessible within a united, peaceful and secure nation."

Terrorists, bandits terrorised Nigerians under Buhari – Catholic Bishops

However, as Buhari leaves office today, the CBCN scored him low on fighting insecurity. Criticising Buhari, Catholic Bishops President, His Grace, Most Rev. Lucius Ugorji, who is also the Catholic Archbishop of Owerri Archdiocese, commended him on provision of infrastructure especially the approval granted the newly established Lux Mundi University, Umuahia, Abia State. Dr. Ugorji, while fielding questions from newsmen, equally praised the outgoing President for completing the Second Niger Bridge.

On the security situation under Buhari, he said, "Buhari did not achieve much in the fight against insecurity in our region and other parts of the country being terrorised at the moment by bandits and other criminal elements.

"When he came on board, he promised that he was going to battle insecurity and at that time,we had only Boko Haram in the North East but as he is leaving office today, we have not only Boko Haram but also banditry. We have Fulani herdsmen.

"We also have the unknown gunmen terrorising many communities in the country and particularly, the South East part of the country. Many people can no longer go to their farms because of the activities of the Fulani herdsmen. So, he has done well in some areas but in the area of securing the lives and property of Nigerians,I don't think, he has done well. "

However, he said the impacts of the newly approved 36 universities among which is Lux Mundi, in the educational development of the country cannot be overemphasised as it will go a long way in accommodating thousands of university admission seekers, left out every year due to limited opportunities in the existing universities.

According to him,

Quote

"President Buhari deserves the commendation of all Nigerians for taking this step to expand the reach of tertiary education in the country.

" Lux Mundi comes with its uniqueness in curriculum, besides being the first university in Umuahia, where I served for over three decades as Bishop. With the development, more access to higher education is here offered effortlessly to our children in this new citadel, whose cardinal vision is to graduate internationally equipped and self-employable students to reverse the worsening unemployment crisis in the country .

" You will agree with me that so many graduates today are not employable. Our intention as the Chancellor of this new university is to match training, skills with the extant opportunities in the dynamic world of work. It means developing a curriculum that is in sync with the realities in the job market, so that our student are equipped in a manner that makes it difficult for them to be left behind by the future of work."


The Catholic Bishop also eulogised President Buhari for giving attention to the decadent infrastructures in the South East zone, noting that he initiated and completed the Second Niger Bridge as one of his legacy Projects.

"We are also happy with the progress of work on Enugu – Port Harcourt high way among others.

"Well, the President has said he is satisfied with his performance. Definitely there are a number of achievements he has made and of course, we cannot forget that he completed the Second Niger Bridge which was commissioned few days ago. We see some roads, federal roads being done.
Posted: at 29-05-2023 09:08 AM (4 months ago) | Addicted Hero