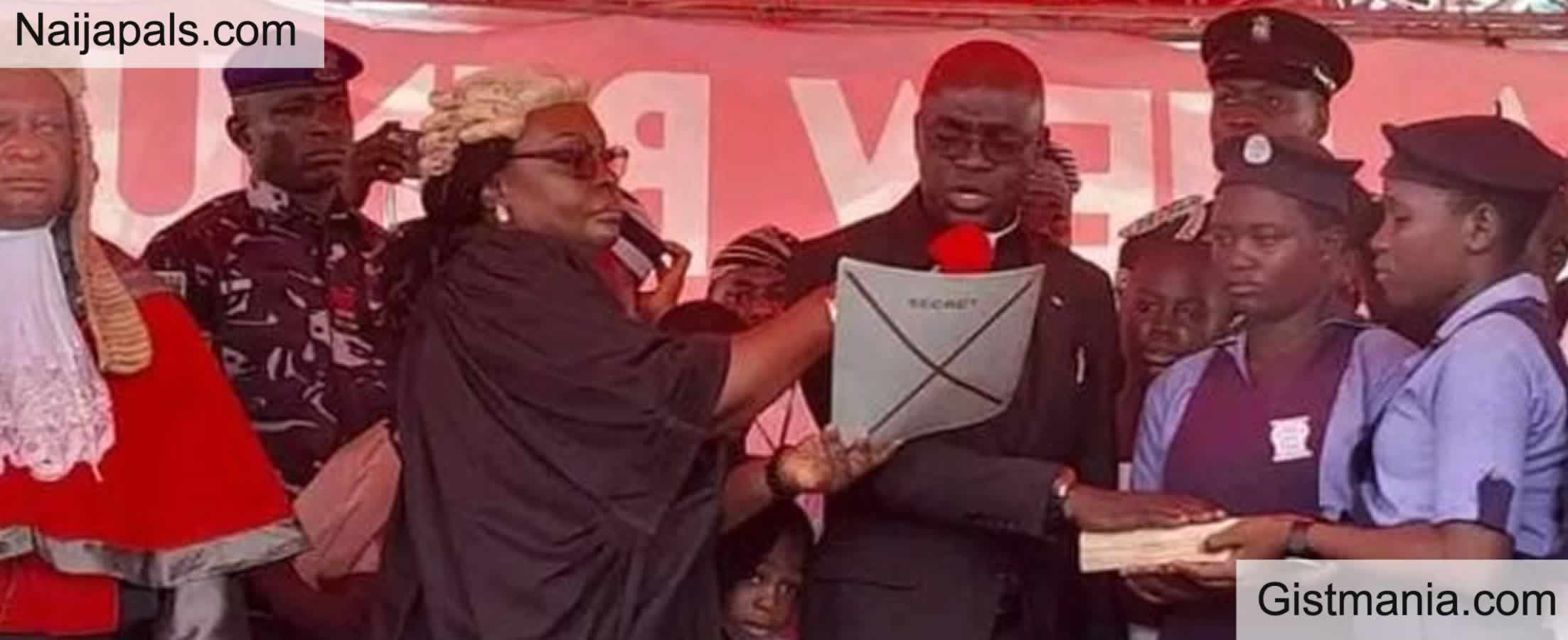 Rev. Fr. Hyacinth Alia has been sworn in as the sixth Executive Governor of Benue, alongside his Deputy, Dr. Sam Ode.

Alia who was sworn in by the Chief Judge of Benue State, Hon. Justice Maurice Ikpambese, immediately froze all bank accounts belonging to the Benue State Government.

"May I announce that with immediate effect and until further notice, all government bank accounts in all banks are hereby frozen. A 'Post No Debit' instruction shall remain in force until all Signatories are changed. Any Bank that violates this instruction does so at its own risk," he warned.

He said his administration would be guided by a seven-point development agenda featuring security of lives and property, industrialization, trade and investment, as well as human capital and social development.

Other priority areas include care for the environment to mitigate the effects of climate change, investment in
information and communications technology, Civil Service and local government systems reform, as well as the review of laws to make Benue state investor-friendly through political and economic governance.

"My fellow Benue citizens, these seven pillars represent a Social Contract between our Government and your good
selves. On these promises, we shall be held to account. You hired us with your votes to deliver on these promises. We will do everything in our powers to fulfill our side of the contract," he promised.

He promised to work closely with security agencies and the Federal Government to ensure the safety of lives and property of Benue people.

"We will also work tirelessly to address the root causes of insecurity, such as poverty, unemployment, and social exclusion."

The Catholic Priest pledged to prioritize job creation and economic empowerment by promoting private sector-led industrialization, with a particular emphasis on agriculture.

As part of measures to address the perennial problem of flooding in the state, Gov. Alia said government would engage the Federal Authorities towards the dredging of the River Benue to address the flooding problem in Makurdi and other parts of the state.

According to him, government has already set in motion machinery for clearing blocked drainage systems in Makurdi metropolis, pending when a comprehensive solution would be found to the perennial flooding of the state capital.

"To provide immediate succour to the army of unemployed youth in the state, we shall execute this exercise through a public works scheme or direct labour," he said.

He assured that in the next 100 days, work would commence on the design of a comprehensive infrastructure development programme involving unemployed graduate youths in continuation of government's public works programme.

"In addition, our industrial parks and technology incubation centers, designed to bring the best out of our youth and provide gainful self-employment, would be equally unveiled within the period."

The News Agency of Nigeria (NAN) reports that the Alia is the second priest to govern the state as late
Very Rev. Fr. Moses Adasu (12 June 1945 – 20 November 2005) became governor on 2 January, 1992, elected on the platform of the Social Democratic Party (SDP).
Posted: at 29-05-2023 10:43 PM (4 months ago) | Addicted Hero