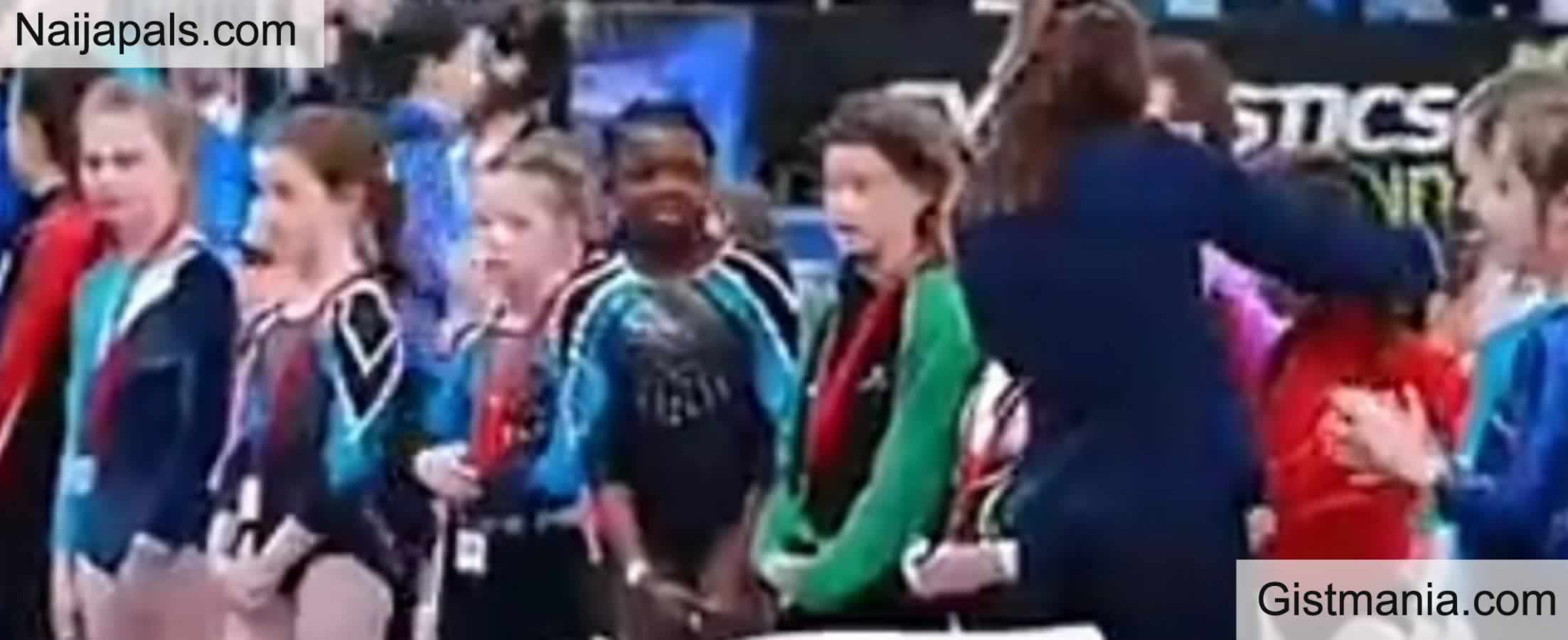 Gymnastics Ireland has been accused of racism after an official presenting medals to young competitors skipped the only Black girl in the group.
A viral video shows a Gymnastics Ireland official presenting medals during a medal ceremony. When she gets to each competitor, she puts a medal on their neck. However, when it got to the turn of a Black girl, as the child bowed her head to accept her medal, the official skipped her and went to the next white girl.
Outrage as Black girl is skipped during medal presentation at a gymnastics competiton in Ireland (video)
The Black girl is seen looking confused, yet expectant, waiting for the official to realize her error. But the official left with the last medal without presenting it to the girl.
The incident reportedly occurred in Dublin in March 2022 but it is now going viral after the girl's mother spoke out. She said her family were "very upset" at how their daughter had been treated by Gymnastics Ireland and that they believe she was ignored because she is black, the Irish Independent reports.
Reacting to the racism row, Gymnastics Ireland said that it engaged with the woman, who is now no longer a member of the sporting body after she chose not to renew her membership.
They said she "accepted fully that what had happened had not been acceptable but stressed that it had not been intentional".
The statement continues: "The official concerned said that upon realising the mistake they immediately rectified it and ensured that the competitor concerned was presented with her medal before she left the Field of Play (FoP).
"The official also expressed deep regret for what they described as an honest error and requested the opportunity to apologise in person to the competitor and her family. This request was initially declined.
"A written apology provided by the identified individual has since been issued to the competitor and her family."
The statement went on: "Initially we attempted to address the matter through the informal process of our discipline and complaints policy.
"However, following a series of communications with the parents they informed Gymnastics Ireland that they would not be engaging in the process and were seeking legal advice."
Gymnastics Ireland was contacted by the Gymnastics Ethics Foundation (GEF) last summer, which informed it that it had been contacted regarding the complaint.
"We remained engaged with the GEF through the autumn and winter months during which time our internal process was suspended," said Gymnastics Ireland. "In February, we agreed to resume internally and proceed to the next stage of our process."
The video has continued to receive backlash across the internet.
Watch the video below.

---
Posted: at 24-09-2023 09:51 PM (2 months ago) | Hero