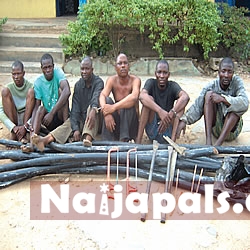 Crime in all ramifications pervade the entire landscape of the country. OLUWATOYIN MALIK in these reports write that criminals who get released on bail conditions often return to crime soon after, while illicit drug trafficking is still a big business.
TWO members of a notorious gang involved in Nigeria Telecommunications Ltd's (NITEL) cable vandalisation were, again, caught by policemen at Bola Ige Junction, along Liberty Road, Ibadan, Oyo State in the early hours of Tuesday, where they were busy cutting the cables after opening the manhole used to cover the entrance to where the cables were laid underground.
It is recalled that Saturday Tribune carried the story of cable vandals in its June 4 edition on page 31. What is however shocking is that the two men arrested, in this fresh case, were among the six men in the story.
They were arrested by policemen from Mokola division on May 19, and were actually pointed out as the masterminds and leaders of the operation.
According to information gathered by Saturday Tribune, one of the suspects, Isiaka Muraina, had approached a security guard along that area about five weeks ago, that they would be coming to carry out an operation, pleading with the guard to look away whenever he and others would come calling. He promised to reward him handsomely.
The guard reportedly informed his supervisor and they were on the lookout for Muraina and his gang, but they did not come around until about 3.00a.m. on Tuesday.
Muraina and his gang were noticed by the security guards, who kept watch to see what the gang would be up to, at a petrol station near the manhole.
Taofeek Amoo, who also gave his name as Taofeek Akintola, had reportedly gone inside the manhole and was cutting the cable, while Muraina and two others recruited from Lagos also hung around.
It was learnt that when the security men saw what they were up to, they started shouting thief! thief!! Immediately, Muraina took to his heels but was apprehended by the security men, unknown to them that there was still another person in the manhole.
It was when Muraina was taken back to the scene that the security men discovered Amoo in the manhole. The Divisional Police Officer in charge of Iyaganku, Abiodun Agboola, was then called on phone and he was said to have sent policemen attached to Seven Cities patrol to the scene. Two patrol vans moved to the scene and promptly arrested the duo.
The remaining two, however, escaped from the scene unnoticed since they were hiding even as the operation went on.


Police sources told Saturday Tribune that Muraina confessed that the two people, who were recruited, were lodged in a brothel, but when the police got there, they learnt that the duo only stayed for few hours and checked out not too long after they came in. They later converged on the scene where they wanted to perpetrate their act.


In an interview with Saturday Tribune, one of the suspects, who has been caught twice within a month for the same offence, Muraina, said it was evident that God was not in support of what he and his partners-in-crime were doing.
"How else will I explain that the two times we have gone out to steal cables within a month, we were caught? We were released on bail at that time, but I can only say it was greed that nailed us because we have no excuse to go back to the crime. We are ashamed of ourselves." he stated.

---