Fellow pals, last week I posted a story on the Baby Born Without Arms, Legs in Bauchi

[See earlier story]

, due to the comments from so many house members, i decided to follow up on the issue and now i have been able to track the family of the baby.

Although Mallam Ahmadu Didda is physically challenged, he and Rukkaiya his wife had previously had four children who were all 'normal' children with no deformity whatsoever. But the couple's attempt at having their fifth child was a different story entirely, which invariably brought them into the news.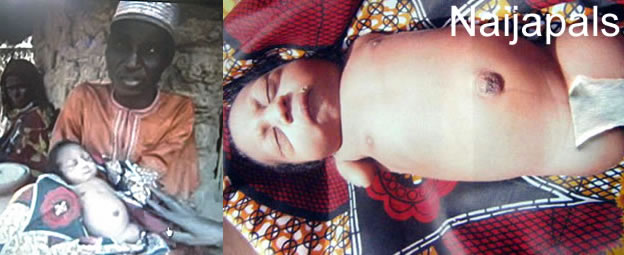 The Fulani couple lives at Dunomari in Sakwa village in Zaki Local Government Area of Bauchi. About two weeks ago, January 13, 2012 to be precise, Rukaiyya, delivered a baby girl without arms and legs, which stunned the people of the sleepy village as the birth was a strange occurrence to them and many. The baby, named Fatima, apart from the fact that she is without arms and legs, looks healthy.

Fatima's condition, according to medical experts is called phocomelia, a congenital birth defect in which the hands and feet are attached to abbreviated arms and legs. The bones of the arms, the experts say, may be extremely shortened and even absent and in some cases, while the fingers of the hands may be joined together.

According to Dr Obiora Kelvin of Reemee Medicare Nigeria Limited, Bauchi, an extreme case of phocomelia, like that of little Fatima, occurred when the upper bones of both the arms and legs are absent such that the hands and feet of the affected individual will appear attached directly to the body. This, he said, was called tetraphocomelia.


---