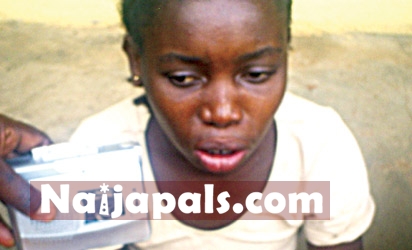 EXCEPT by legal abracadabra, Chinonye Lucky, a 26 -year- old mother of two who is also expecting her third child, may spend the rest of her life behind bars for a first degree murder. She is currently at the custody of the homicide department of the Edo state Police command, Benin city, where detectives are already putting finishing touches to her cases file. She is due for arraignment any moment from now for allegedly poisoning a 16- month-old baby boy with a killer chemical while the mother of the baby was away to fetch water.

Betraying emotions while narrating how she was overwhelmed by her untamed ego; so much so that she threw caution to the dogs and killed an innocent baby, the same baby she actively participated in weaning, the Anambra state- born school dropout turned farmer living in Ikogu village with her Edo state born husband says, she could not really say what came over her that ill-fated day. However, investigation shows that Chinonye's mother, the third of a peasant farmer -husband, abandoned her and her siblings while she was two years old. She, therefore, suffered what criminologists call 'fixation'. Even detectives at the homicide department confirmed that Chinonye occasionally exhibits traits of conduct disorder among fellow inmates adding that she may need the services of a clinical psychologist.

As subsistence farmers, both Chinonye and her rival, Mercy with their siblings including the 16 months old baby strapped in her back, made for the nearby farm. Their mission was to harvest cassava tubers for the forthcoming market day. While in the farm, their husband soon joined them but left almost immediately to inspect some traps set for grass cutters. Moments after, Mrs Mercy left for the stream to fetch water for all. Just then, Chinonye surreptitiously made for the hut which served as a resting place in the farm and by the corner of it was a container filled with chemical. She grabbed it and emptied some quantity into the mouth of the 16 -months -old baby who was at the time fast asleep on a mat. The sleeping baby licked the liquid in innocence thinking it was a normal water. However, pandemonium broke out minutes later when the mother arrived from the stream to behold her child writhing in pains.

According to Autopsy report, He was already coughing blood. Quickly, Chinonye rushed into the hut, grabbed the dying baby from her mother and dashed towards the express road screaming hospital, hospital. As a virtuous woman, Mercy could not leave the four children behind in the farm for hospital, instead, she stayed behind to fetch them including her rival's daughters to the house before joining Chinonye in the hospital. But before Mercy's arrival, Chinonye was already rolling on the floor crying uncontrollably and refused to be consoled. The baby was dead. Nobody knew what killed him.

However, the lid was blown open after an autopsy report said the baby was poisoned. Investigations began, and Chinonye was to confess later amid tears to detectives, that she was responsible for the death of the baby. But she quickly dismissed insinuations that she committed the murderous act out of sheer jealousy. "I did not mean to kill the boy after all they were all born in my presence. Although I am yet to bear a baby boy, that does not make me jealous of my rival who already has three boys. I am believing God for a boy child because as I speak to you, I am pregnant. I have lived with my rival in peace; in fact it is difficult for a stranger to know that we are rivals. On that day, there was no quarrel between us. We all woke and decided to go to the farm to uproot some cassava tubers for the next market day.

At the farmer, a particular spirit came over me and I felt like killing the baby. Initially, I was fighting within me on how to carry out the act but an opportunity came when my rival called to inform me that she was going to fetch water and that her baby was lying on a mat in the hut. Quickly, I rushed to the hut, grabbed the gallon which contained some chemical which our husband use in killing grass cutter and poured some quantity into the baby's mouth and dashed back into the farm as if nothing had happened. It was when my rival came back that she raised an alarm that her baby was vomiting blood. I felt bad and quickly rushed to the hut, grabbed the baby from her and took him to the hospital.

Though I did not tell her that I was responsible, I was troubled in my mind. I did not know what came over me, I think it was devil. All her children were born in my presence and I was actively involved in their weaning. I just want God to forgive me because for about one week now, I have not seen my children," she lamented. However, the police through the public relations officer, ASP Bassey, said the law would have to take its full course. "The moment our men are through with the investigation, she would be arraigned before a court of competent jurisdiction. Even though she has confessed culpability, for us, she is presumed innocent until otherwise is proven," Bassey said.
http://odili.net/news/source/2012/may/2/317.html
---
Posted: at 4-05-2012 09:45 AM (9 years ago) | Gistmaniac