Saudi Princess,

Maha Al-Abdullah, is one big spender.

In 2009, she racked up a shopping bill of about

$27M (N4,239,000,000)

in

Paris

, which included about $60,000 (N9,420,000) just on

high-end lingerie.

The only problem with her big spending? She doesn't pay for any of it!

Last Christmas, Princess Maha checked into the

5-star Shangri-La Hotel in Paris

. She requested for all 41 rooms for she and her entourage. After enjoying her stay in the hotel,

dodging numerous requests by the hotel to pay for the time

she'd already spent, and racking up a bill of $7.7M (N1,208,900,000),

she decided to leave. She however did not pay her hotel bill.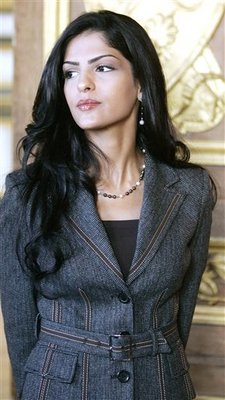 Instead of quietly dipping out, she had

her sixty servants

carry her stacks of suitcases with her at

3:30am

. Hotel staff called the police to intervene, but they couldn't because of Princess Maha's diplomatic immunity. She's since moved to another luxury 5-star hotel owned by her father's friend called The Royal Monceau close to the Champs-Elysees.




Police in Paris said they were unable to arrest or charge her because she was claiming diplomatic immunity. They said they would be asking the Saudi embassy to help settle her accounts.

LMAO! Too useless. Her father

cut her off from his wealth because of her reckless spending

when she ordered over $100,000 of glassware a while ago. They should at least make her wash plates in the Royal Monceau.

What type of behavior is that?
Problem with this article? Please contact us