In times past, Christians looked forward to Sunday, the day set aside for worship.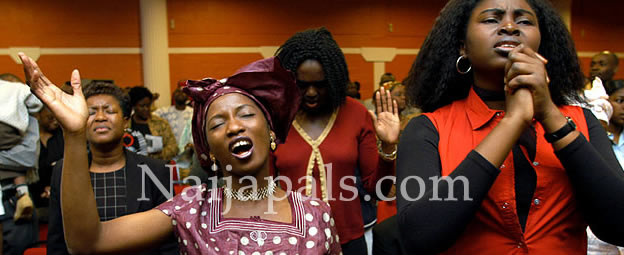 Everyone-men, women and children-reserved their best clothes for Sunday services and everyone came out looking their best.

But this is no longer the case; Sundays are now a nightmare for many Nigerians and are looked forward to with apprehension as a result of the growing insecurity and terrorst activities in the country which appear to be targeted at Christians.

Over the last one year, there has been hardly any Sunday that passed without reports of bomb attacks in churches in the northern part of the country.

But since the beginning of June, it has become a recurring decimal-happening every Sunday.

Perhaps this is what has informed the growth of online churches, especially amongst the Pentecostal worshippers where churches can now broadcast services live on the World Wide Web. This type of internet broadcasting is commonly known as live video streaming or webcasting.

The online church is a purely internet activity whereby members of a church can follow church services live on the internet through live streaming, YouTube and other internet fora such as downloading church podcasts.

The scheduled services are streamed live and users can watch sermons without registering or can register and engage in conversations with other users. On some church websites, there are opportunities to virtually raise hand and answer questions by the internet minister

This operates in such a way that rather than appear physically in church, worshippers can log onto the church's website and participate in the church activity.

To do live streaming, a church requires a website, a camera, a computer, a media server and internet bandwidth, and experts say it doesn't cost much: with about N200,000, churches can commence live streaming of church services.

The worship method has attained a level of sophistication that offertory is also collected online through the internet banking platform where a worshipper can pay directly into the church's account using their credit card.

There are, however, a few churches in Nigeria that have adopted this method of worship, among them Daystar Christian Centre, David's Christian Centre and Christ Embassy Church.

This mode of worship was originally designed for frequent travellers who hardly have the time to go to church or those who prefer to worship at a particular church even when they are far from that location as well as those who just feel lazy and prefer to remain under the covers rather than go to church.

Others are those incapacitated by ill-health or those wishing to attend or become members of a church who may want to have a preview of their services.

With the growing insecurity and killings of Christians in churches every Sunday, many Christians, especially those in metropolitan cities where these acts of violence are most prominent, may be turning to this mode of worship.

But can this really be a solution especially for churches that have certain doctrines that require physical presence?

In the Catholic Church, for instance, there are certain integral parts of the Mass, such as Holy Communion which require the physical presence of the worshipper.

Speaking in a telephone interview, Pastor Boye Oloyede, Team Heah, Maturity, Daystar Christian Centre, said the church started online service about six years ago even though its concern then wasn't about insecurity as the country was relatively safe then, but on the realisation that its members were spread all over the world as well as the many professionals among its members whose jobs often took them out of the location of the church.

He said the platform had been successful with the church recording a daily login of about 7,000 people during its Excellence in Leadership Conference.

"We get reports from our members abroad about the fact that they gather their friends to watch the services together," he added.

Asked if he foresaw a time when the online church would take over physical church attendance, he said, "Nothing compares with being in the live service with other people but there are certain constraints that prevent people from coming together.

"If you trace the history of the early church, there were times when Christians went underground because of persecution but now, with technology, even when Christians go underground, they can be aBosom of what is happening within the church and also commune with other worshippers but nothing can take the place of physical church attendance."

Reacting to the development, the director of communication, Catholic Archdiocese of Abuja, Rev. Fr. Patrick Alumunku, explained that church attendance was all about communion and the online option would be a negation of what God meant when he said He is there when two or three are gathered.

"God said where two or three are gathered He is there, and if you are alone in your room watching online, this is no longer a community.

"We can pray in our rooms individually but God has instructed us in his word to pray together as a family. Many inventions may come up but they cannot replace our union with our community and family, where we talk and listen to God together," he noted.

Speaking further, Alumunku said while the church was open to the use of the new media and also had media departments in all its formations including in the Vatican, it does not subscribe to the option of online mass.

"The church follows the media closely and is aBosom of all the latest developments in the media, but it does not even approve watching Mass on television to replace physical presence at Mass except for those who cannot attend for reason of ill-health and incapacitation.

"There are those who have tried to ask if confessions can be done over the telephone. It would be very convenient if this could be done but it is not possible because the church has not approved that," he added.

Speaking in the same vein, Rev. Fr. Narcisse Seka Ogou of Holy Family Church Life Camp, Abuja, said that Catholic masses are sacred, requiring personal contact with Christ and full participation by an individual, just as he expressed doubts if the church would subscribe to the online option.

He noted that members of the early church also faced trials because of their faith but said it was important for Christians to remain steadfast in times of persecution rather than turn to options inimical to their faith.

"The community must gather and interact and support themselves, so online Mass or service, as the case may be, for me, would not be an option, and I don't think the church would concede to that," he said.
Posted: at 21-06-2012 03:19 PM (8 years ago) | Upcoming