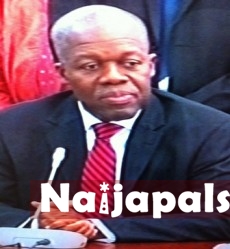 Vice Presidential nominee, Mr. Paa Kwesi Amissah Arthur has broken his silence for the first time over the controversial issue of whether he is gay, by strongly refuting the allegations

The nominee, rubbished the allegation during his appearance before the Parliamentary Appointments Committee on Monday, saying he is straight, married with children and has no peculiar sexual preference for men.

Member of Parliament for Bekwai Joe Osei Owusu brought up the issue during the vetting of the former Governor of the BoG and asked if the nominee cared to comment.

There have been some publications in the media about the sexual preference of Mr Amissah-Arthur shortly after he was nominated as vice president with some alleging he is a homosexual.

The false claims which started circulating this year, died down subsequently, but strangely resurfaced a few days after President John Mahama nominated him as his vice president.

But in a strident manner, the former BoG Governor put paid to the speculations when he stated in his denial that his lawyers are keenly following up on the matter.

"It's one of the difficulties (of the job)...a number of people think since I'm the boss and I have access to government vault, I can just dip my hands into government purse. They think I have access to unlimited resources and when they come to me I should give them money."

He added: "I have had classmates from Primary school who've come looking for jobs. I've had friends from Secondary school looking for money. And there's one particularly who has asked for money which i've refused because i've some concern about his lifestyle. This is what has led to these things. I'll just make one general comment, it is not true. It's absolutely not true.... I have not seen this gentleman for 40 something years. I saw him once for about 2minutes when he came to my house to ask for some money and i gave him...I'm saying that since i left Mfantsipim, I have seen him once for about five minutes...My children were the ones who first drew my attention to the fact that we never lived in a house with a garage. We lived at Ayido flats at Legon and those of you who know Ayido flats you'd know that there is no garage there," Mr. Amissah-Arthur emphasized.

"In our second house too we did not have a garage so it's absolutely not true to say that I had an affair in a garage, is not true....We have also never had house boys, it's been house girls throughout, a series of them... I take it as part of the problems of the office that if people have wasted the resources that have been inherited and are therefore going through difficulties and think that by putting out this claim, somebody will pay them to keep quiet, i've refused to have anything to do with it. I'll not pay one pesewa to anybody who claims anything, and i've no doubt that this thing will blow over," the Vice-Presidential nominee stressed.