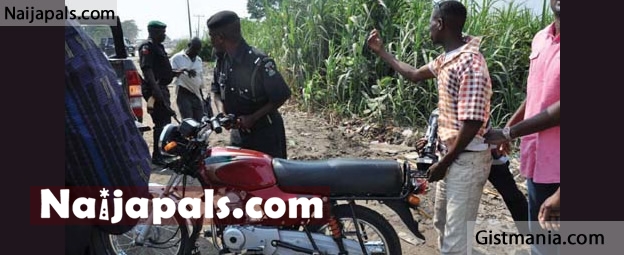 The first casualty of the ban on okada operations on major highways in Lagos State emerged yesterday when a policeman allegedly beat to death, Mr. Jimoh Fasasi, a driver with Lagos State Ambulance Services, LASAMBUS who was riding his bike on a prohibited road.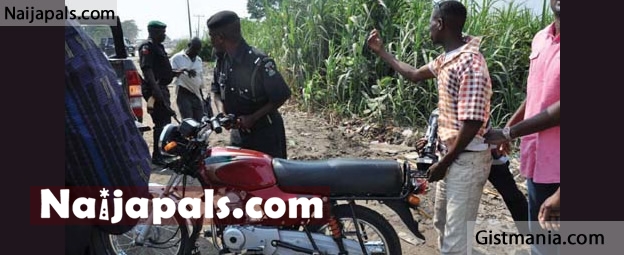 We learnt Jimoh closed from work and was heading to his Mushin residence on his private motorcycle and in LASAMBUS driver's uniform when he was accosted around Barracks bus stop by the policeman.

Our source said an argument ensued between the cop and Jimoh who managed to put through a call to the chief pilot of LASAMBUS, called Lateef, at about 6.50 p.m. yesterday.

"The only message our chief pilot could get was 'a policeman is beating me at Surulere area. He threatens to take me to police station.' The cop allegedly continued the assault, hiting Jimoh with the butt of his gun," our source claimed.

He added that Jimoh slumped and was foaming in the mouth and ear. His phone was allegedly placed on his chest after he collapsed and died on the spot.
His corpse was later removed and taken to the morgue at the Lagos General Hospital at Lagos Island, while his bike is now at Iyun Police Station, Surulere.

Our source expressed surprise that Jimoh was beaten even while wearing his LASAMBUS driver's uniform, saying that most of them ride motorcycles to ease their movement to and from office.

When we contacted the Divisional Police Officer for Surulere, CSP Ugobueze Ogbodo on phone this morning, he simply reacted: "your information is not correct."

He declined further comment but directed us to the spokesperson of the Lagos State Police Command, Ngozi Braide.

Commenting on the incident, DSP Braide denied that the cop hit Jimoh with the butt of his gun, saying that he was a traffic policeman who does not carry gun at all.

The PPRO said policemen were arresting okada riders who violated the Lagos traffic law. She said Jimoh was arrested alongside other uniformed men riding motorcycles on the highway.

She added that Jimoh was begging that his bike should not be impounded and had already put a call through to his colleagues when suddenly he slumped and was foaming from his mouth and ear. He was rushed to a hospital where he died later.

Braide said autopsy report is not yet ready but people who saw Jimoh foaming suspected he was suffering from epilepsy.
Posted: at 12-09-2012 06:19 PM (9 years ago) | Gistmaniac