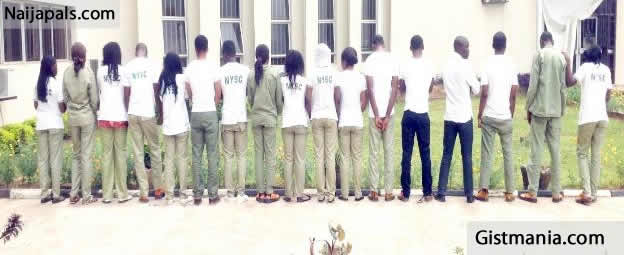 An eye-witness account of how married female corpers hide wedding rings, play love games in Tsafe Camp, Zamfara's three weeks orientation programme of the National Youth Service Corp (NYSC) members are often regimented.
Participants in the scheme face hectic drills by soldiers and their steps are closely monitored by eagle-eyed soldiers. Sadly, some female corps members still break camp rules, as they turn the camping exercise to a free sex carnival.
Life in the orientation camp is fun, although occasionally 'marred' by regular sessions of drills, mind-blowing and strenuous activities like the Man O' War drills, endurance trek, camp fire night and the regular early morning parade.
Some girls were so carefree that they actually succeeded in having sex on a daily basis, frolicking with male corps members, and even some soldiers and a few camp officials who do not want to be left out of the corpers' rush.
Some of the teenage Aboki boys otherwise known as Almajiris that at times helped out with chores especially fetching of water, also ate the free love dishes served by my fellow female comrades. It was difficult to believe that those female graduates actually had it with these muscular teenage boys and, they too, in turn, were willing to service as many females as are willing to pay as low as N500 or more.

If you dare to ask where these dirty habits were carried out,They regularly take place on the vast expanse of land that doubles as the exercise and parade field. But they took place mostly at night when other sane corps members are sound asleep. Those that slept with soldiers and camp officials were however saved the stress of having to do it in the open but rather in a cozy room and on a mattress, who cares if the foam is flaccid. The corper-to- corper or corper-to-aboki romance has so much risk, hence it is usually done in a hurry.

It was so shameful to discover that majority of the ladies were supposedly married or engaged. While a larger number of them removed their wedding band (though the lines were still very obvious on their fingers) others simply desecrated their sacred vows and frolicked around with their wedding or engagement ring glaringly displayed on their fingers. Shameful is it?

About one week into the orientation exercise, two girls were reportedly decamped having been caught making love with the abokis. This news was confirmed by one of the soldiers as he was literally advising female corps members to hook up with responsible soldiers who would provide them the luxury of a decent place to be laid as against doing it with the abokis on a dusty grass.

He said one of those girls caught and decamped was a married woman as the camp authorities called her husband, thinking it was her father, to inform him of what his daughter did on camp. So infuriated was the husband that the poor man went through the stress of removing all her belongings from his house, all the way from Kaduna where they both lived, to Zamfara State before picking her up from the camp to her parent's house.

Other offences that could make one liable to be decamped includes: lunacy, which by now many people would have screamed God forbid, fighting and injuring fellow corps members (hence sharp objects were seized from our belongings prior to venturing into the premises), stealing, breaking any of the outlined camp rules all of which have escaped my memory and, of course, infidelity (which we all know is done with the wrong person).
---
Posted: at 9-10-2014 04:17 PM (7 years ago) | Hero