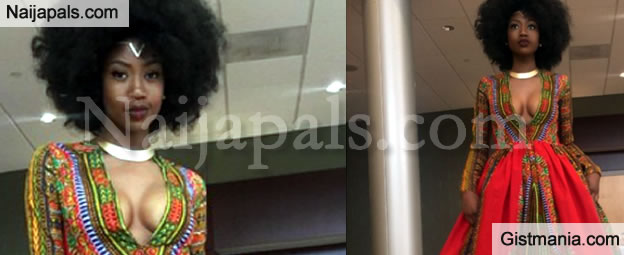 If you're older than 25, then you more than likely know prom isn't what it used to be. What once was just about having that one final good time with your friends before leaving home to start college, has turned into the Oscars red carpet.For the past couple of years, high school seniors have been dressing to the 9s, 10s and 11s for their "night to remember," with completely beat faces and glamorous gowns that would put our prom pictures to shame. On the flip side, we've also seen some *head tilt* peculiar outfits that don't quite hit the mark…not even within a mile! However, one high school senior didn't just hit the mark; she crushed it! Making its rounds on social media is Kyemah McEntyre's utterly amazing, beautifully designed, fantastically gorgeous (and all the other adjectives) Afro-centric prom dress. The 18-year-old first debuted the floor-length stunning creation on Twitter, posting a series of pictures of her stunting in her dress while also sporting an enviable afro. She captioned the images,
"When European Ideals and standards of beauty mean absolutely nothing." The tweet ended up getting over 2,000 retweets. She later shared another tweet, showing her support for girls mislabeled as "ugly" and "angry." "This is for always being labeled as, "ugly" or "angry". Thank God, stereotypes are just opinions." Amen!
Kyemah, known as Kye, isn't just beauty, she's also brains. The talented artist sketched and designed the flowy, eye-catching number while Markell Evette of Markell's Closet turned her vision into a reality. The red V-neck dress was also just as popular offline as it was online as Kye took home prom queen at her high school prom.

---