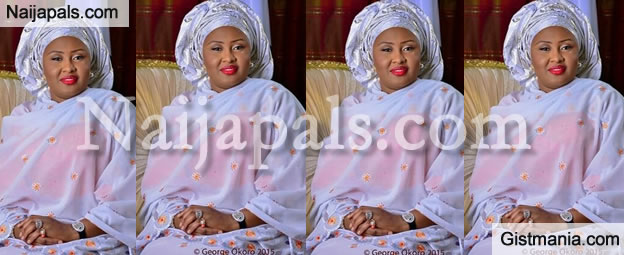 "I am not the First Lady", said Hajia Aisha Muhaamdu Buhari, the wife of the President of the Federal Republic of Nigeria. "I am the wife of the President and will be addressed as such going forward".
With her large smile that easily lights up an entire room, Mrs Buhari sense of direction was established. Her jovial nature belies a strong personality who says what she thinks.
Speaking at the Appreciation Dinner held June 13th at the State House , Mrs Buhari shared some of the challenges experienced on the campaign trail, ensuring that she diffused a potential life threatening situation with banters, which shows her sense of balanced perspective on the trials that come with being in the public glare.

She attributed the success of the campaign to team work and was profoundly grateful to the team , women and youth that helped vote her husband into office.
She also attributed all her success and achievements to the support of the President who encouraged her to go to school even while raising five children, where she eventually got her Master's degree in International affairs and Strategic studies from the Nigerian Defence Academy, NDA.

L-R; Wife of the Vice President, Mrs Dolapo Osinbajo and Wife of the President Mrs. Aisha Muhammadu Buhari at the dinner


"We are celebrating our victory", she said and for every victory celebration, there is a party and a party it was indeed with beautifully and fashionably women from every state in the nation across every class ably represented seated as peers.
Also in attendance was the wife of the Vice President Mrs Oludolapo Osinbajo, who also celebrated the women who came en-masse to vote despite challenging situations.
She regaled the audience with a story of the egg seller who had never flown in an airplane but was flown in for the party. She wanted to bring her eggs along, but the security did not allow the eggs on the plane.

Mrs Osibajo related how Mrs Buhari had continuously spoken about the Chibok girls and how meeting with the parents was a priority.
With an agenda focusing on women issues, the wife of the president hoped to see more women in the legislature, from the local government level.

While observing the decline of women in the legislature , a situation she hopes to help reverse; she believes empowerment from the ward level will better affect the ordinary woman on the street. It was a point she highlighted in an interview with a local news station during the electioneering campaign.

Nicknamed 'Gogo of Africa" by Hajia Ramatu Tijani, the APC National women's leader gogo means 'Caregiver", Mrs Aisha Buhari has been described as someone who will want to share everyone's burden, an advocate for those treated unfairly,a strong supporter of the rights of women.
Jovial and gentle natured , she is prepared to share her beloved husband with the rest of the world. She says: "He belongs to the whole world and he belongs to nobody"

---
For more scintillating and juicy stories, follow the official Naijapals accounts On Twitter - @Naijapals and Facebook - www.facebook.com/naijapals
---