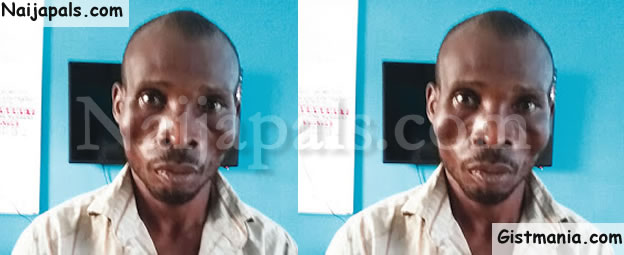 A suspected assassin, Mr. Edet Asuquo, yesterday made a chilling confession at the Akwa Ibom State Police Command Headquarters of how he was hired to kill a pregnant woman for ritual. The suspect said he was hired by a chief in Ikot Itu village.

The pregnant woman, whose name is yet to be ascertained, hailed from Ogoja in Cross River State and was described a very 'customer' of her killer. Asuquo was arrested by the police on Monday through the combined efforts of his brother and sister (names withheld) who reported the act to the police. It was gathered that the body of the deceased was found by the police at a nearby plantain farm.

The PPRO explained that the suspect had lured the pregnant woman to the market to buy oysters and later took her home to buy more but instead murdered her and hid the body with the hope of removing the foetus for ritual. Nwawe said the suspect's sister, who witnessed the act reported to her elder brother, who later alerted the police.

Asuquo, according to Nwawe, was contracted by a chief in his village (name withheld) now at large, to kill the pregnant woman in order to remove her foetus for ritual. Nwawe explained that the suspect with four others, now at large, were each promised to be paid N50,000 by the chief for them to provide him with a foetus for ritual to enable him to win election into the village council.

The PPRO, who warned residents of the state to always inform those living with them of their whereabouts, said the suspect would soon be charged to court while investigations continued into the whereabouts of the other suspects. Asuquo said: "What brought me to the police station is because of the job given to us by the man (name withheld) who promised to pay five of us to kill a pregnant woman so that her head and her unborn child would be removed and used for charm in order that the new council chairman would not be appointed.
"He said that after we have carried out the job, he would give N50,000 each. He did not give us any advance payment. After we had done the job, my brother became angry. He said that was not the kind of job I should have got myself involved in. He called my other elder brother and reported the matter to him and they alerted the police.


---
For more scintillating and juicy stories, follow the official Naijapals accounts On Twitter - https://twitter.com/Naijapals and Facebook - www.facebook.com/naijapals
Published at:
06:38 AM, 14/01/2016 (3 years ago)
Author:

Mr. Jayden Wonder
Problem with this article? Please email reporter[at]naijapals[dot]com or visit our contact page
---