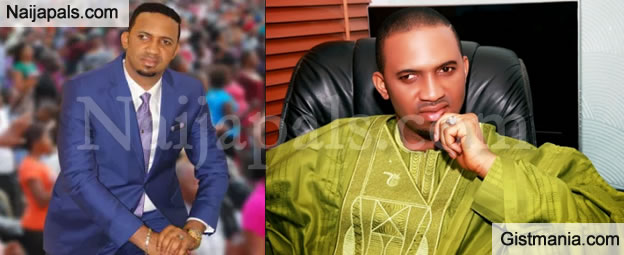 SIGNS AND WONDERS IN CALABAR!!!
A Certain Pastor abi na Prophet Chris Okafor has been in Calabar since this week performing wonders at Calabar Stadium!

Eye witnesses said, he'll call people out by name among the crowd and if there's any confusion like more than one person bearing the same names, he'll call out your home town or anything to distinguish whoever he has a message for. You can imagine how people react being told of things they think no other person know of or their loads of problems being tabled before them with promises of possible solutions....

Wonders!! Wonders!! Wonders!!!!

You need to see the crowd of igwe mmadu he attracted! People with all sorts of ........ Anyway, e be like say the whole of Calabar attended the program which lasted for 3 days or so. I think on the 2nd day of the program, he prophesied thus; 'Heavens have shown me that 638 people here will have financial breakthrough! If you think this prophesy is for you, come forward with N5,000.00 to claim your blessing!'.

See crowd trooping forward to claim their blessings with their hard earned money! Then he said,

Quote

'If you know you don't have up to N5k, better go back before the wrath of God falls on you'

. So, few people quietly went back to their seats, yet over 200 people remained to claim the blessing! After that, he declared that those with N3k and N2k can come forward. And in that order, he got to N200. Halleluiah!!!!!

The next interesting thing is the sales of holy water and oil! He sold water and oil in a very tiny container (the size of eye drop container) for N2,000.00 each. And people bought! Signs!!! Signs!! Signs!!!
Then yesterday, he had a counselling session with people of all sorts of physical illness. Kai! You need to see the crowd awaiting to see this 'prophet'! Guess How much he charged each person for the counselling.....?
A Whooping Ten Thousand Naira (N10,000.00)! Choi!

I've been trying to help this pastor calculate the hundreds of millions he must have made on just one program in Calabar. And i'm feeling so bad for wasting my time trying to build a career when i can just become a prophet, start a church, break even in less than a year and start counting in Zillions!! Mbok where is the Babalawo wey dey do the jazz for them.
---
Posted: at 4-03-2016 04:43 PM (7 years ago) | Hero