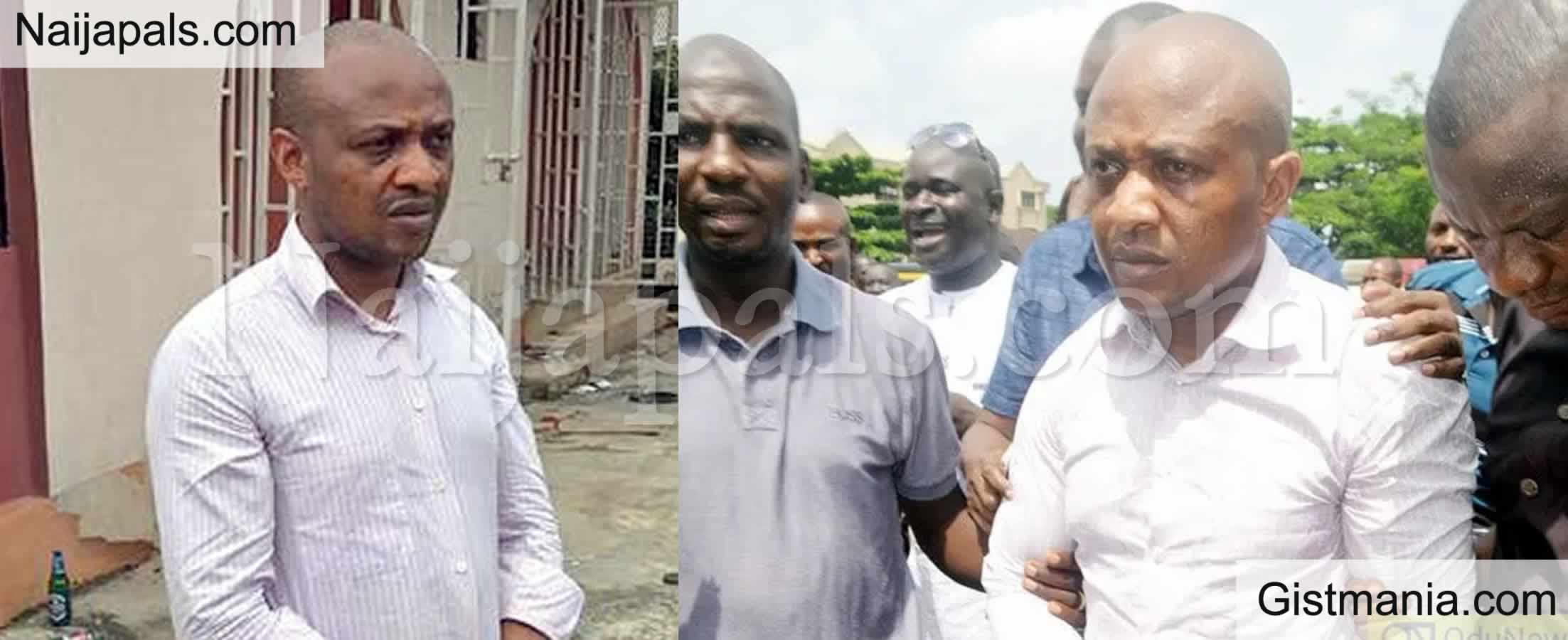 The leader of a notorious kidnapping gang arrested in Lagos last Saturday, Chukumdubem Onwuamadike a.k.a. Evans, has opened up on the circumstances that warranted his transition from a harmless spare parts dealer to a deadly armed robber and kidnapper.




Evans, who narrated his involvement with the kidnapping gang that tormented the entire nation and left security agents sleepless for years in an interview with TheNation correspondent, also revealed his exploits, his love life and exotic lifestyle, including furnishing a house he bought for N130 million with the sum of N100 million.


He also spoke about the kind of relationship he had with his father and mother as well as his siblings.

He said: "My name is Chukumdubem Onwuamadike a.k.a. Evans. I was born in 1981 into the Onwuamadike family in Akamilli village, Umudim village, Anedo. I dropped out in JSS II because there was no money to go further. "My father was born in 1960 and he had three wives. His name is Mr. Stephen Onwuamadike. My mother is the first wife with four boys and two girls. They are Somadina, Nnemeka, Chukwuemelie, and myself. My two sisters are Nzube and Chigozie. "Later, I served one Jubako, a motor spare parts dealer in Nnewi, for five years and he never settled any of his boys. "I left from East to Lagos and started selling black market phones at Alafia but resided in Surulere area. "Somebody promised to send me to Holland but it did not work. I collected N200,000 from friends plus the N700,000 I saved and gave it to somebody to procure a visa and other things I needed to travel abroad, but the person disappeared with my hard earned money. "I started selling fairly used motor parts in Ladipo Market. I met one Kingsley who was into armed robbery but I did not do robbery with him. "I gathered some money and travelled to South Africa to sell drugs between 2006 and 2008. That was how I started drug business in South Africa.

RETURN TO NIGERIA
When I had a misunderstanding with my fellow drug pusher who planned to swindle me by selling drugs and telling me that the buyers had not made any payment, I confronted him and he brought out his pistol and shot me with the intention of collecting the entire drug money. I was taken to St. Clamout Hospital in Cape Town where I was operated upon. "I later met Kingsley and Ehis in Nigeria when I went to treat my wound with native medicine in 2008. We promised to do something in Edo State. We started armed robbery. It was the Chief Superintendent of Police CSP Patrick that chased us out of Edo State and we relocated to Lagos. He was then the MOPOL 2 Commander. "We carried out robbery operations on Port Harcourt Road, Aba where we used a truck to block a bullion van and collected N70 million. We used to be about 20 in the gang. Our members include Too Much Money and an Hausa boy, Nwangwa. There is a member called MD and one called Obele "Obele led the operation in Old Umuahia. We stayed two weeks in a hotel while MD was planning the job. We collected N110 million from a bullion vehicle after we had jammed it with a tipper. There was another robbery operation we did and collected N7 million from another bullion vehicle. "I met my wife, Precious, along the road in Uruagu village, Nnewi. We are 11 years in marriage. She was about 15 years old when I married her, because she was about to take her West African School Certificate Examination. "I promised to pay her school fees, but when I impregnated her, she stopped school and stayed with my dad in the village till she gave birth. "I rented a three-bedroom flat at Marwa Road in Satellite Town and shared it with a friend. We had three boys and two girls. I was trading in Ladipo when I married my wife, Precious. I adopted the name Evans when I was in JSS II." Asked why he went into armed robbery, he said: "It was because I lost my shop in Ladipo for travelling abroad. I decided to look for money to take care of my three children then. I was also looking for money t travel to Brazil. "When I told Kingsley that I needed money, he said he would link me to somebody named Too-Much-Money. From him I got MD's contact.


REBUILDING MY LIFE
"I got money and bought a Honda 'Baby Boy' car for N1.8 million. I opened a shop at Aspanda in Trade Fair area where I was selling car fitters. I also spent N6.1 million on the goods I put in my shop. "My gang members at Ladipo at that time were Ejima, Omo, Benin Papa, Sado, Papa Twins, Prince Joe, Alhaji Ibo and Papa Kekere. They were all traders in Ladipo. "We also operated in Edo State. My gang members were Harison from Edo; Papa Ibo and Papa Benin, both late; Tony and Biggy from Imo State, both late; Ehis from Edo; Bekee from Imo, also late; Ahere from Edo; Kingsley from Delta, now late; Papa Twins from Edo; Prince Joe from Anambra, now late; Alhaji Ibo, now late; Baba Kekere and Henry a.k.a. Hunch Man. "I later formed a three-man gang, namely myself, Eyis and Harrison. We kidnapped Kings Paints boss and got N7 million, Dan Odete N40 million, Randeki N11 million when I relocated to Lagos. We also kidnapped Iyi Technical and got N100 million, but Henry ran away with the money.

Asked about his relationship with women, he sad: "I am not a womanizer. My friend was missing and I took care of his wife and children with my money. I did not have sex with the woman. I did not touch any woman in Lagos except my wife. I moved my wife to Ghana when I was in Satellite Town." Evans said he relocated to Lagos when there was a problem in Benin and met one Aku Uche who taught him how to make money from kidnapping.

He said: "We picked a generator seller, Raymond Okoye, at Alaba. We picked him where he used to drink beer and we got N40 million from him. My share was N3.5 million. It was Uche who brought the three Ak47 rifles we used in the operation. "We also kidnapped Ucheson when he was going home at Sixth Avenue, Festac Town. He was coming back from the market. He paid one million dollars. "It is the person who brought material and the job we call the master. Uche brought the Sienna car we used in robbing the (boss of) Young Shall Grow motors. Baba Eko brought the job. "We kidnapped Okija man in Ajao Estate and got N60 million. We did not succeed in kidnapping Young Shall Grow. Uche, Hunchman and Dr died in the operation when bullets hit them.


... I BECAME THE BOSS
After the Young Shall Grow operation, I became the boss. I secured Uche's equipment and rented a house in Igando in 2014. I did two jobs at Amuwo Odofin and Festac. We kidnapped Chief Uduji in Alaba and he paid one million dollars. "I treated Chief Uduji with rose fin injection when he became sick. I got how to treat him from the internet. I used to buy Roche drug N4,500 each. It was the pan of his car that wounded him. His wife in Canada phoned me and said he should not be allowed to die. Other members of my gang ran away thinking that the chief would die. "We also picked Ojukwu Cosmos from his house at 21 Close, Festac. He paid 350,000 dollars. We picked Francis Umeh who paid 300,000 dollars. Unachukwu had no money and paid only N30 million. "Donatus who is a pharmacist we picked at Ilupeju paid N223,000 Euros. I had three vehicles and later sold two to meet up with my financial challenges. "I bought a Lexus Jeep (SUV) for N15 million, a Hilux Jeep for N11 million and Chiroke Jeep for N55 million. I also sold two of my vehicles for N23 million. I rented a flat in Magodo brooks and later bought a house for N130 million and furnished it with N100 million. I also bought another house in Magodo for N100 million. "I did not befriend Okey's wife, Amaka. She said her husband was missing and I was giving her money to sustain her family. I did not marry Iwuji's wife. I did not know that she had a husband. She is my childhood friend. I thought that she had no husband." Asked why he would keep a victim for more than three weeks, he said he wanted him to pay enough money to meet up operation expenses because he pays those who play different roles good money.

He swore that he had not killed any of his victims both in armed robbery operations and kidnapping operations. He said it was the gang members that handles rifles and misbehaved in shooting victims or when they are exchanging fire with police.

When he was asked how he felt now that all the things he worked for would be taken over by the government, including his exotic cars and beautiful mansions, he wept profusely and said, "I feel bad. I feel for my children, wife, mother and friends.

Even my mother is suffering partial stroke because of the kidnapping work I am doing. I was taking care of her till I was arrested. "She is in the village in Nnewi. At times she refused to take the money I sent to her, telling me that I should stop kidnapping people; that it was making her sad. "How can my mother prepare charms for me when she did not support my kidnapping job? I do not use charms; I used brain. The commander of Inspector General of Police Intelligence Team (IRT), an Assistant Commissioner of Police (ACP) Abba Kyari used brain to get me. If not for Kyari, I would not have been arrested." Reacting to the allegation that his gang tortured and killed many of their victims, Evans said it was not true.

Said he: "I do carry arms but I do not encourage abuse of firearms. I do not allow members who kill victims to participate in an operation I am interested in. I even treated one victim who became very sick. I cannot allow a victim to die if I can save him. "What is true is that you can be kept hostage till you pay the last kobo. I used the money to pay those who play different roles in the kidnapping job. Anybody who says he is not well paid is a liar. Once we got a ransom, we came together to share it. Those who could not come to where we were sharing still got something reasonable. At least N2 million or N1.5 million for whatever role you played. "I also do not encourage stealing victims' property. I was not happy when Ikechukwu and Nwosu stole the golden ring of a victim. If not for our arrest, I would have made them to return the ring to the owner.


LESSONS TO LEARN

1. Some of your business partners might just be gathering information before striking, be careful and do not show off. Equally mind what you say and discuss with 'friends'.

"All I did was to rent a shop in Aspanda and Alaba markets and started selling motor spare parts. This gave me the opportunity to mix in properly. I also opened a haulage company that carries mostly containers. My customers were the big boys in the market. This business helped me to know when they are doing well judging by the number of containers that they import."- Evans


2. Keeping late nights is not advisable. Be mindful of certain areas you go to relax cos you don't know who's watching or monitoring you.

"It was one of my boys Uche that brought the job. To be sure, we monitored his movement and discovered that every other evening he normally goes to a bar to drink and returns home late."- Evans

"I came back in the same 2013 and rented a house in Lakeview estate, Amuwo Odofin. It was then that I realised that I was wasting my destiny in armed robbery. I saw how successful most of my Igbo brothers were. They had little or no protection and were always seen at beer palours. I never knew that most of these men at Alaba market and Aspanda market were very rich till I started living among them."- Evans


3. Alternate your routines and your routes to work or relaxation spots.

"It was then another person suggested that we should pick up Young Shall Grow chairman. We monitored him and discovered his daily routine especially where he goes to play table tennis."- Evans


4. Ladies, all that glitters is not gold, demand that he takes you to his office or business venture... Pay surprise visits often...

"I tried my best to keep her away from the real source of my wealth. I had established several businesses, which she knew about. I am not good with dates so I might not remember the date that I married my wife, all I know is that it was 11 years ago since my first child is 10 years plus. I met her when she was still a teenager and in Senior Secondary school. She was so pretty and innocent so I got attracted. Then I was a trader at Ladipo and was making small money there. I toasted her and succeeded in convincing her after showering her with so many gifts. Along the line, she got pregnant and it's an abomination so I quickly convinced her family to allow me to marry her. They asked me what I was doing; I told them that I was a spare parts dealer based in Lagos." - Evans



5. Kidnappers and robbers go to church. Meanwhile be mindful of the kind of testimonies you share in church, you wouldn't know who is sifting your stories.

"Any day you are going to do thanksgiving, we are going to be there." I now asked him, how would I know you will be there? He replied that, I shouldn't worry; he would come and follow me to thank God. "Onwa, but your God is great oh". - Evans to one of his victims.
---
Posted: at 20-06-2017 10:51 AM (5 years ago) | Hero