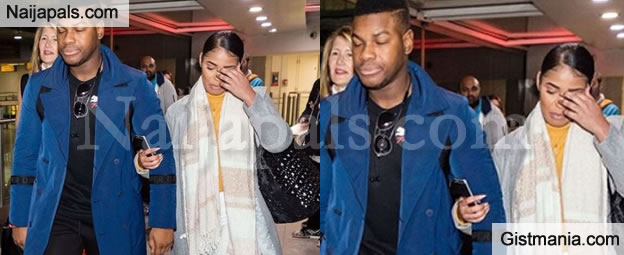 John Adedayo B. Adegboyega born to Nigerian parents in Peckham, London, United Kingdom was pictured with his girlfriend on a romantic date. Nigerian-British actor, John Boyega of "Star Wars" seems to have gotten himself a new girlfriend and she's pretty indeed.

The 25-year-old actor and the mystery lady were pictured arm in arm earlier this week arriving in the UK Ahead of the UK premiere of "Star Wars: The Last Jedi."

The actor whose real name is John Adedayo B. Adegboyega once suffered a heartbreak. He revealed on The Graham Norton Show in April, that he was dumped after his date found out he was in Star Wars.




"She didn't know what I did until we were driving through Times Square. She goes 'What do you do for a living?' looked up and I said, 'That.' It was me over a lightsaber," Boyega said.

After finding out Boyega was starring in the new Star Wars film, it "affected her stance," and things ended badly for them.

According to reports, the last woman who dated John was Nigerian.
---