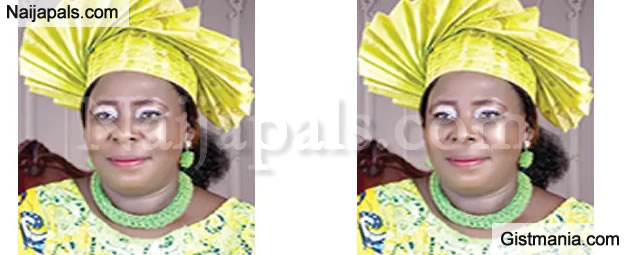 Blessing Clement is the candidate of the Mega Party of Nigeria (MPN) for this weekend's governorship election in Bayelsa State. In this interview with PAULINE ONYIBE, she speaks on why she wants to govern the state

Nigeria has never had a female elected governor. What is your driving force in the contest for the Bayelsa State governorship position?

I am a grassroots politician and I have been in politics since 1999 and I have contributed a lot to the development of Bayelsa State. Some people say there is no way a woman will be a governor of a state, but in other countries, women are involved in governance more than men. The idea of a woman becoming governor is not a taboo, but should be seen as a welcome development. So, I think the time for Bayelsa State to produce a female governor is now.

Considering the performance of previous governors of Bayelsa, what is that distinctive difference you intend to make to change the political narrative of the state?

You know that we women don't play politics of violence, rather we play academic politics and we reason very well. I will reshape the political landscape of Bayelsa State and that would be achieved through peace. You know that women are peacemakers. If you go to the National Assembly, women are there and they are also in the states Assembly. There are also women serving as ministers. So, if I become the governor of Bayelsa State, there is nothing wrong with that. Women don't fight; we don't carry guns, so we can use women to bring positive changes in Bayelsa State.

How would you ensure peace in Bayelsa if you become governor given the volatile nature of not only the state, but the entire Niger Delta region?

I have a nine-point agenda that covers areas such security, jobs for the youth, education, infrastructural development and health, among others. When all these are in place, there will be absolute peace in the state. Through empowering the youth, we will ensure because violence comes as a result of hunger. If you come across someone, who is hungry and you say just one word to that person, violence occurs. I have intimated the people about my agenda and everyone is overwhelmed that I am the only one talking about peace in Bayelsa State.

Who is your political mentor given the role political godfathers' play in Nigeria's politics?

I will say that God is my political mentor because we said that we don't need the godfathers. We need just God on our side. You know that godfathers run Bayelsa politics and we only respect the elders and royal fathers. Those are the people that we will look up to as our mentors.

You said you have a nine point agenda,what exactly is your plan for the agriculture sector in the state?

In 1999 when Diepreye Alamieyeseigha was the governor of the state, he bought tractors, but all those tractors are there unused. We have good land for farming. So, we will register every farmer in Bayelsa State and distribute the tractors to them. We will also give loans to the farmers. Gone are those days when we used machetes and hoes to work until we are tired. When you go to the North, you see tractors to clear farmlands and that explains why they have food.

What is your plan for education?

Education is the most powerful tool for development and the most potent weapon to fight poverty. So, I will declare free education at the nursery and primary levels and reduce the cost of school fees for students of secondary and tertiary institutions. I will adequately pay the teachers' as well as take care of pensioners' gratuities.

How do you intend to tackle youth restiveness in the state?

That is why I am talking about security and job creation. I will engage the youth in community policing and they will partner with police. You know when you engage these youths; they won't have to think about criminality. There is so much criminality in the state because these youths are not gainfully employed. Also, we will establish skill acquisition centres in the various local government areas of the state.

How do you intend to boost the revenue base of state in order to fund the programmes you intend to embark on?

Apart from oil, we have enough sand in Bayelsa State to produce glasses, so I will ensure an enabling environment that will attract investors. You know that industries will bring more revenue, so industries like the plastic factory would be revived for our youths to be employed.

Do you intend to run these industries through Public Private Partnership (PPP) or as government owned ventures?

Bayelsa State receives about N20 billion or more every month and the question is: how much is the state's wage bill? But despite the allocation which the state receives from the federation account, workers in Bayelsa are not being paid. I can't partner with other companies. I am a businesswoman and I know how much it took me before I become an entrepreneur. I came here since 1989 and some people just came to this state and became governors because they have godfathers. When there is no godfather, all these I have listed can be done. I can't partner with any company because after some years, they will take all their money back and the company will close down because it is not our own. Go to Akwa Ibom State and see what Governor Udom Emmanuel is doing. He is not running those things through private partnership.

You said that the state receives more than N20 billion every month from the federation account, but sometimes government claims that there is no money to run the state…

If anybody tells you that there is no money to run the state, that person is being economical with the truth. Let me tell you, there is no way you will say that there is no money to run this state that has eight local governments. I don't want to believe that. I am telling you that I came here in 1989 and I know the problems of Bayelsa. As a businesswoman, I know the capacity I have and you are talking about a state. Do you know that I can bring an industry by myself ?

What is your plan for the Oloibiri oil well?

My leadership will not be for only Ogbia. My concern will be for Oloibiri. That oil museum has to be built. The president has to visit where the oil was first found. That oil well was the first in Nigeria, but that place is now a forest and criminals can hide there. The Oloibiri oil well is just like a first child in Bayelsa State and in the entire Nigeria, but as I talk to you, I don't think that President Muhammadu Buhari knows where that oil well is.

What is your idea about a local refinery?

A local refinery may not get the approval of some people because of oil pollution, but I will liaise with the Federal Government to do it and be paying taxes to the federal government

Do you believe in resource control?

That is what our people are fighting for. But that is not a day's job because the same resource has been bringing problems. So, that will be followed gradually.

The Bayelsa State Oil Producing Areas Development Commission (BASOPADEC) is supposed to have been on ground to ameliorate the sufferings of the oil producing communities through the 13 per cent derivation. Other oil producing states have established theirs, but Bayelsa is yet to do that. Do you intend to see to its take-off if you come on board?

I will ensure the establishment of the commission because the process is on even though it has not been completed.

What are your plans for the women folk?

I have 40 per cent position for the women, while the remaining 60 per cent will go to the men.

Vote buying has become a norm in Nigeria's politics. What is your take on it?

Our people are wise now enough not to sell their votes and I am assuring you that not only members of my party, but members of the All Progressives Congress (APC) and Peoples Democratic Party (PDP) are the ones, who will vote for me in this election. The PDP and APC will bring the money, but the people will collect it and still come out tovote for Mega Party of Nigeria (MPN) because it is the party of the people.

What is your advice to the youth ahead of Saturday's election?

I have already counseled the youth in the state on the dangers of allowing themselves to be used by politicians. In all my campaigns, I have been telling them that these politicians have their children abroad, but when elections come, they will use the ones at home to perpetrate violence and even use them to kill their brothers and sisters. After the elections, they will abandon them and they will become sea pirates and armed robbers. I have already educated the youths. I have been sounding this warning and I think that explains why a lot of them are now becoming sensible.

What is your expectation as we go into the election?

Every one of us should abide by the law because the chairman of the Independent National Electoral Commission (INEC) and police authorities have persistently stressed the need for all the political parties to play the rules, but you know that the APC and PDP are the two parties that always cause crisis.

What do you expect from the security agencies?

The security agencies should take their duty very seriously because they have been deployed to secure every one. They are not coming here for only the APC or the PDP. They are coming here for all the contestants. Of course, we know those going to the field. It may not be more than four of us, but as the iron lady of Bayelsa State, I am going to win the election.

What would happen to the projects initiated by the present administration, which are likely not to be completed before it leaves office?

I will not abandon any project because I will continue from where Governor Seriake Dickson stopped.
---