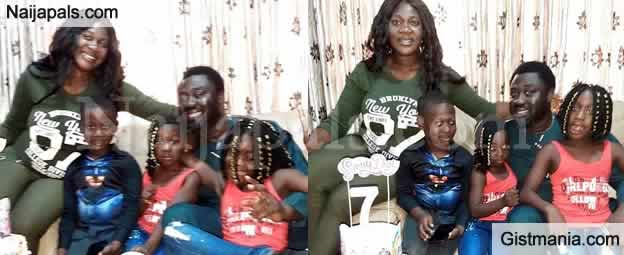 Would you believe this? Mercy Johnson's first daughter is already 7 years old! 3 years shy away from the big 1-0. back in 2012, Mercy Johnson married her husband, Prince Okojie and immediately embarked on her children production journey dropping 3 children within the space of 3 years, leaving everyone awed at her ultimate fertility and ability to reproduce. The actress is even pregnant with another child as of now, so don't get it twisted, Mercy Johnson is one solidly fertile specimen. Back to the topic, her first child, Purity is celebrating her 7 years birthday today and in true Mercy Johnson family tradition, they had an in-house close family celebration, we have some photos and videos of the celebration below:




Video of Purity bonding with her dad:


Video of Purity's birthday celebration:



Here is daddy's message to birthday girl:



Quote

My Dear Purity,

I have watched you Grow into an Amazing Young Damsel you are today, you have Brought Joy, Peace and Stability into our Home and indeed we are very Proud of You.

I wish you God's Divine Protection, Increased Wisdom, Educational Advancement and a Special Day Filled with Smiles and Laughter.

I Love you Dearly My Daughter and Best Friend.

Happy Birthday!!!!!
---